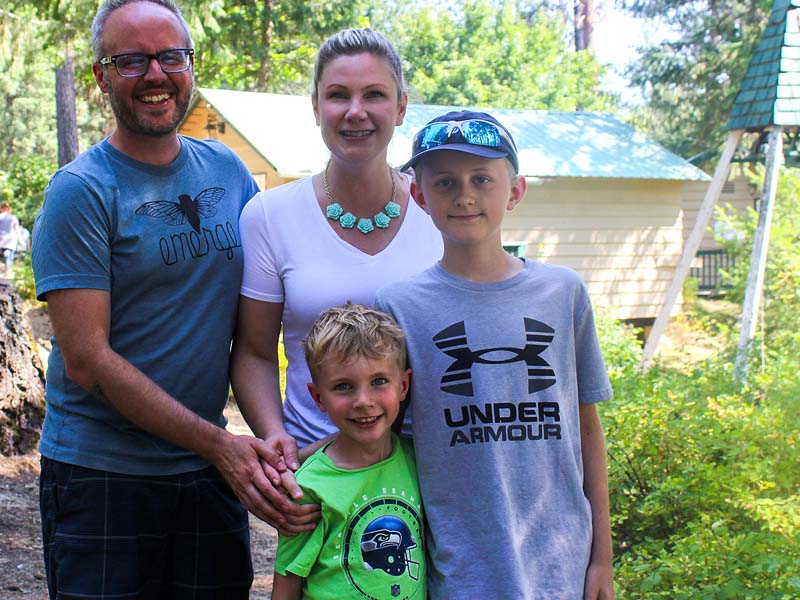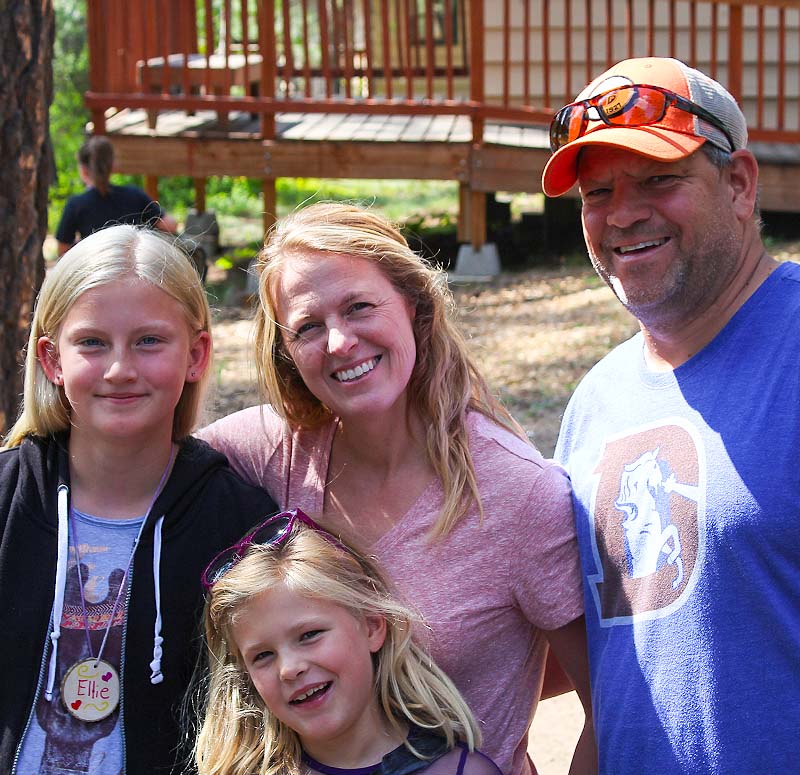 Welcome to Twinlow Summer Camp's 95th year! We are excited that you will be a part of our community this summer. Of course this year might look a little different. Below we list out some things to expect from Twinlow in an effort to keep you and your family safe.
Get ready for an exciting week of praising God, swimming in the lake, playing games, making new friends, and singing great songs. We have been praying for you, and we can't wait to welcome you to the best week of your summer.
Our Program Goals at Twinlow Are:
Provide experiences of community built around Christian values
Know the love and acceptance of God as revealed in Jesus through the Holy Spirit, the scripture, and the history of God's people
Heighten an appreciation of Creation and reinforce a sense of human responsibility as stewards of that Creation
Know and act upon the meaning of God's call to discipleship
Give our campers new life skills to better themselves to who they were created to be
COVID-19 Safety Information
Masks:
Subject to change, but as of March 2022 we are not planning on requiring masks for the 2023 Summer Camp season. If COVID numbers go up, the CDC and/or the American Camping Association suggest masks we will go back to our 2021 standards. It is our goal to try and give campers as normal a camp experience as possible while still being safe. 
Vaccines:
We will be updating our vaccine policy once we receive guidance from the American Camping Association. 
Preparing Your Child For Camp
How to prepare for a COVID-19 safe week at camp:
We will be emailing you a health screening list two weeks before your camper arrives to go over some general health questions. Two weeks before camp we will ask our campers and their families to stay home as much as possible and avoid risky activities such as large gatherings. Three days before camp we will check back in and ask some health screening questions. Please be aware that if your camper or anyone in your family has a COVID-19 symptom or positive test we will ask your camper to not participate that week. We will do our best to fit your camper into another week here at Twinlow. 
Check-in:
Things will look similar to last year for Check-In. We will be limiting the people onsite to those that are fully vaccinated and we will continue to run parking lot check-in. More details will be shared with you closer to check-in time, but please be aware that you might not be allowed to walk through camp with your camper if you cannot show proof of vaccine. 
Check-out:
 Again, in an effort to keep our community safe we will be changing how we run check-out. We will be offering parking lot check-out process where we will bring your camper and all their belongings to you to do their final check-out. Before they leave campers will get to experience the important "last day" traditions such as closing ceremony and ice cream social. Closing ceremony will be recorded and shared with you on our media sharing software. 
Success at camp and how to avoid homesickness:
We want to help you as a parent prepare your child for success at camp. While homesickness is very rare at Twinlow where we play hard all day, we want to give you some tried-and-true tips and techniques to help your child prepare for a week away from their normal routine. Please visit this link for an excellent article published by the American Camp Association.
For additional information on preparing your child for camp, we recommend reading this article published in HuffPost.
Prescription Medications (if needed) 
Reusable water bottle 
Swimwear – make sure swimwear is appropriate for playing
Jackets or sweatshirts for evenings
Towel for showering and waterfront
Shorts and/or Pants
Shirts
Socks and Underwear
Pajamas
Closed-toe shoes (tennis shoes)
Sandals (No Flip-Flops please)
Sleeping bag and pillow
Extra blanket
Toothbrush, toothpaste, soap, deodorant, and other toiletries
Sunscreen
Bible
Lifejacket – We have plenty, but this year it would be helpful if campers brought their own as we are trying to limit sharing this summer. 
Optional:
Sunglasses, hat, or visor
Book to read during rest time
Journal
Small stuffed animal for bedtime
Flashlight
Money for camp store
Water sport toys if enrolled in Water Sports Camps
Please Do Not Bring:
iPods, cell phones, or any other electronic device
Alcoholic beverages, tobacco products or non-prescription drugs
Anything that would hurt someone, weapons such as a knife or fireworks
Personal sports equipment
Animals
Twinlow is located five minutes from Rathdrum, Idaho, just off of Highway 41.
You can find us by typing Twinlow Camp & Retreat Center into Google Maps or Apple Maps on your smartphone.
Or, if you want more traditional instructions, here is how to find us:
Head north on Highway 41 out of Rathdrum for about 5 minutes.
Turn LEFT on Par 3 Golf Course Rd.

Then turn RIGHT on Twinlow Rd. We are about ¼ mile down the road. You'll see the Twinlow sign. 

Don't worry if you miss the first turn. There is a second chance to turn LEFT on Twin Lakes Rd.
If you turn on Twin Lakes Rd., take a LEFT on Twinlow Rd. We are about a quarter of a mile down the road on the right. You'll see the Twinlow sign.
Pull in and say hello! We like it when people say hello.
Twinlow Camp and Retreat Center
22787 N Twinlow Rd.
Rathdrum, ID 83858
If you have any questions, we would love to help and chat: 
Click below for a printable camper registration form PDF: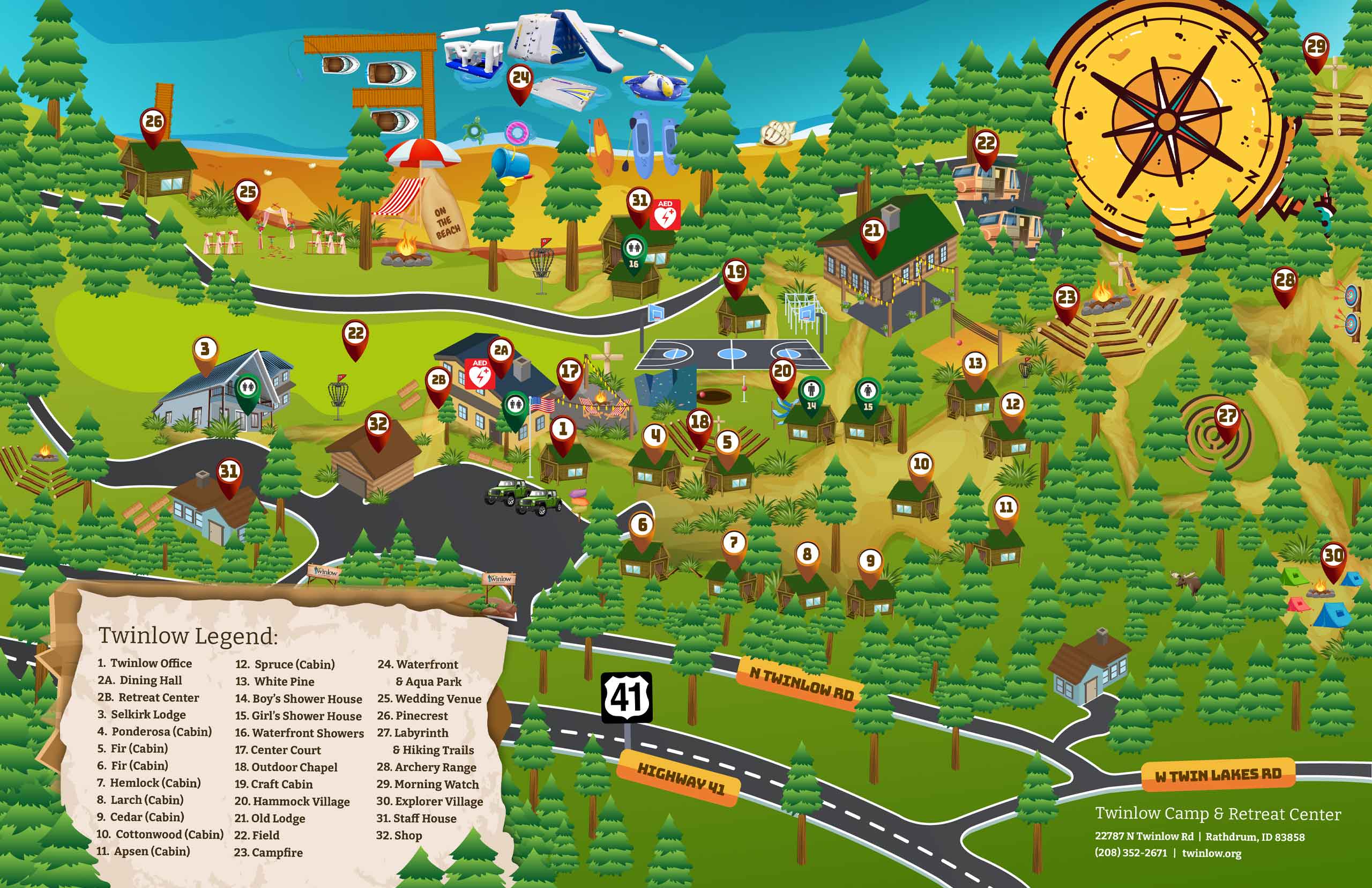 Click the Twinlow map above to enlarge.
Check In & Out
Check-in begins at 11:00 am and ends at 1:00 pm on Sunday, the first day of camp.
When you arrive please stay in your vehicle and wait for a Twinlow Staff to come to your car.
Twinlow Staff will go over our COVID-19 health screening questions with you and take a temperature. After that we will continue the check-in process, please note we may ask you to remain in your vehicle as we check-in your camper.
Please have the remaining balance of your payment and medications with you.
High school campers who drive themselves will be asked to turn in their keys to the camp office for the week of camp.
For Check-out (3:00 pm on Thursday, except Primary Camp which is 11:00 am Wednesday) we will bring your camper(s) to you and go through three easy steps:
Check-out with the Pill Patrol and make sure you have your camper's medications.
Check-out with the Camp Store. Use any remaining funds to grab camp swag or a snack for the road. You also can take home any remaining funds. OR donate the remainder to camp! Thank you very much.
Check-out with your camper's counselor. They will have your name to confirm that you are the one taking the child home.
At Check-Out, we normally have our $50 for $50 deal. If you register for a Summer 2024 camp and put down the $50 deposit, you will get $50 off next summer's camp! Due to the unique nature of this summer we will extend this deal to August 31st, 2023 so you can register your camper(s) safe at home.
Medical
Emergencies: In case of family emergency where you might need to contact the camp, please call our office, which rings to the Director's cell phone. If after hours, please leave a message and we will get back to you as soon as we can. The phone number is:
(208) 352-2671
Injury/Illness: It is your right as a parent/guardian to know about and be involved with healthcare administered to your child. You will be informed and consulted in cases of illness or injury to your camper which is outside the scope of care of our Health Care Provider.
In the case of COVID-19, if your child has any COVID symptoms or is exposed to a person who tests positive for COVID-19 we will be contacting you to pick up your camper and follow the proper procedures suggested by either Panhandle Health Department or your primary care physician. We will refund you all registration fees but the $50 deposit if this does happen. COVID is already a bummer, we do not want to add to that. 
Medications: Please send only enough medication for your child for the week of camp. Medications must be in original packaging/bottle that identifies:
Prescribing physician
Name of medication
The dosage
Frequency of administration
Medications will be turned into the Camp Healthcare Provider and will be kept under lock for the duration of the week. You will have a chance to visit with the Camp Healthcare Provider upon check in at the camp for any information that needs to get passed along.
Special Needs: If your child has any special needs, such as diet, facilities, safety issues or other concerns, please contact us prior to the beginning of camp. A great place to list these is on the Health and History Form, which you completed when you register, but you can let us know by emailing, calling, or when you check in. Dietary needs are especially helpful a week before.
Other Information
Food: Your camper will be provided with three nutritionally balanced meals and 1-2 snacks per day. We prefer that you do not send additional snacks since there is no food allowed in the cabins due to critters. Please make sure you have listed any special dietary needs on your registration form. We do everything we can to make sure their needs are met. Extra special diets, we appreciate you bring any special food and our cooks can store them in the kitchen.
Photos:  We will be uploading photos to a Google Drive. A link to the Google Folder for your camper's week will be shared with you. We appreciate your patience as we can take a few weeks to upload photos. Our number one priority in the summer months is running safe and fun camps, this means that often times office tasks like uploading photos gets a lower priority, thank you for your understanding. We ask that our campers do not bring digital cameras with them to camp. Cell phones are NOT ALLOWED during the week of camp.
Electronics: Here at Twinlow we are proud to be an electronic device free environment. We encourage campers to put their screens down and experience God's creation and the in person community. For this reason, we ask that all electronics, including cell phones, stay at home. Please note that we will collect phones from campers that bring them and return them on Friday.
Mail: Getting mail during the week can often be a highlight for campers. We encourage loved ones to send mail to your camper, if they send letters via mail please make sure they are sent a week ahead of time to guarantee delivery. Please do not send food. It is unfair to other campers, snacks are not allowed in the cabins, and it can pose a risk to other campers if there are allergies. 
     Pro Tip: What we have found works best is to pre-write letters and give those to us at check in. 
Visiting Camp: We ask that you do not visit or telephone your camper during the camp week. For safety reasons, persons not registered at camp are not allowed on site during camp sessions. If for any reason your camper is having a difficult time, our Camp Director will contact you.
Twinlow has a camp store and campers have the option of purchasing additional snacks and drinks during free time. $10-20 is plenty of money for the week outside of clothing purchases. To see what we offer in the camp store, visit our Camp Store page.