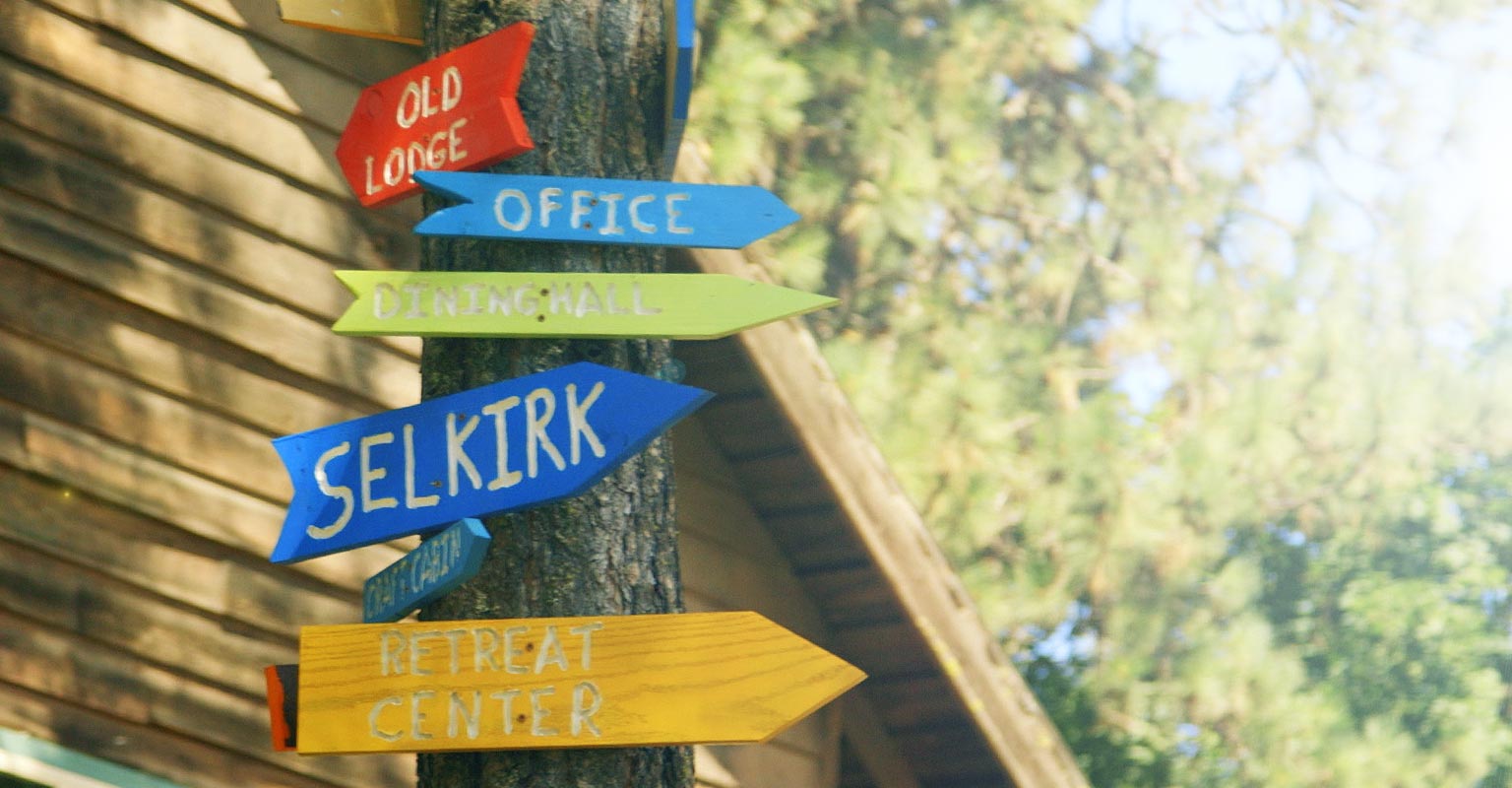 Twinlow Camp and Retreat Center nestles into the hillside on the shores of Lower Twin Lakes in North Idaho. With beds for 200 guests in four different accommodation options, we know that you are going to be comfortable here. Along with excellent lodging, we have plenty of indoor meeting spaces to fit all needs for groups of all sizes. Twinlow sits on 40 acres of woods and waterfront, so there is plenty of room to play, explore, and relax. Contact us for more information and to book your retreat, weddings, or reunion today!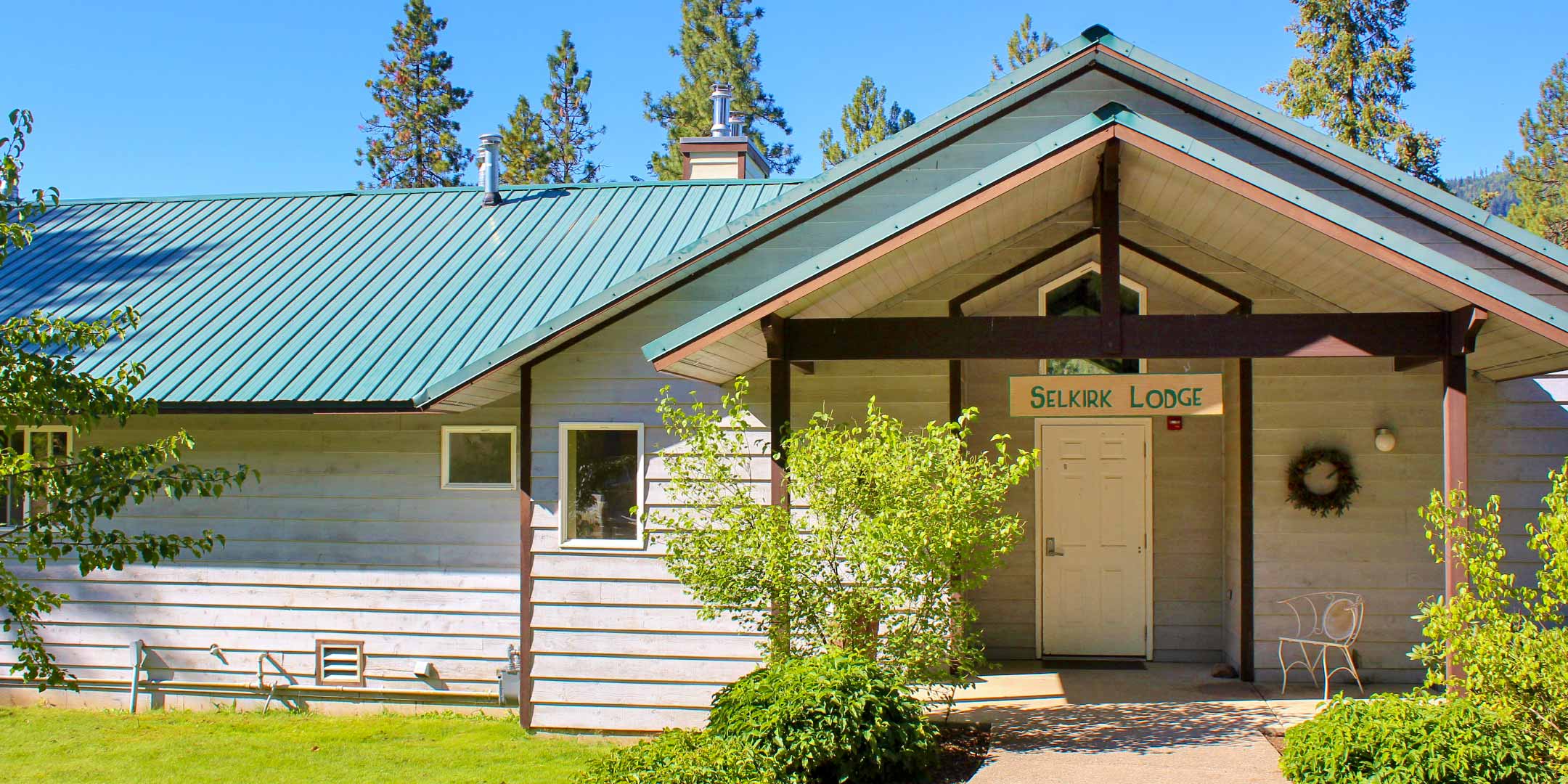 Selkirk Lodge
Our premier level lodging option, Selkirk has two identical floors.  Each floor has a large meeting space, kitchen, and five hotel-style bedrooms. Each room has one queen bed, a twin bunk bed, and an ensuite bathroom. This space is perfect for church retreats, quilting weekends, weddings, or family reunions.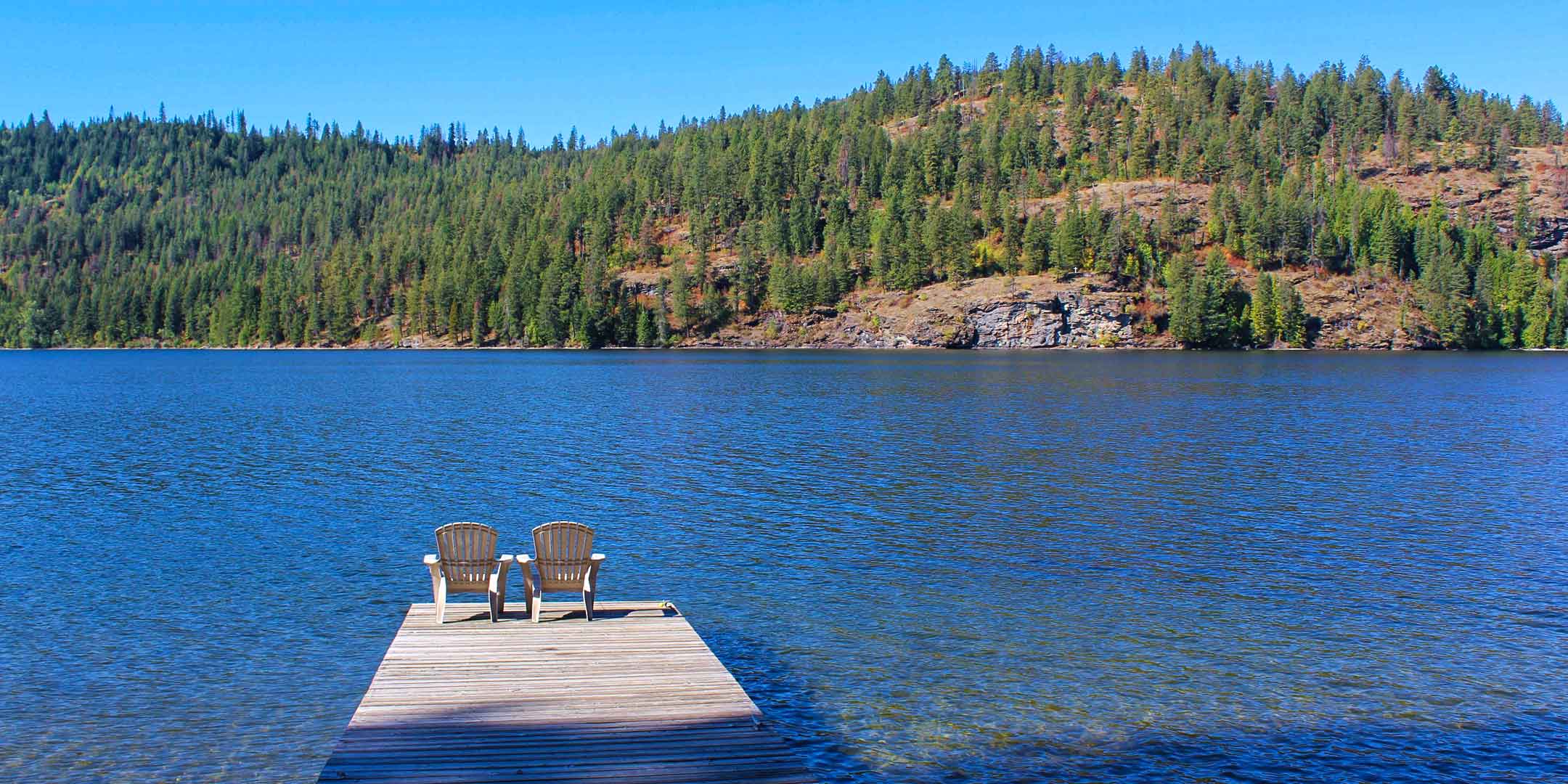 Pinecrest Lake House
Our charming lake house, Pinecrest is more than 90 years old and is perfect for your family's vacation. Pinecrest has a fully equipped kitchen, dining room, living room, and four bedrooms for up to 14 guests. Along with plenty of space for the entire family, the lake house sports a large porch with the most stunning view of the lake, private dock, and spacious parking.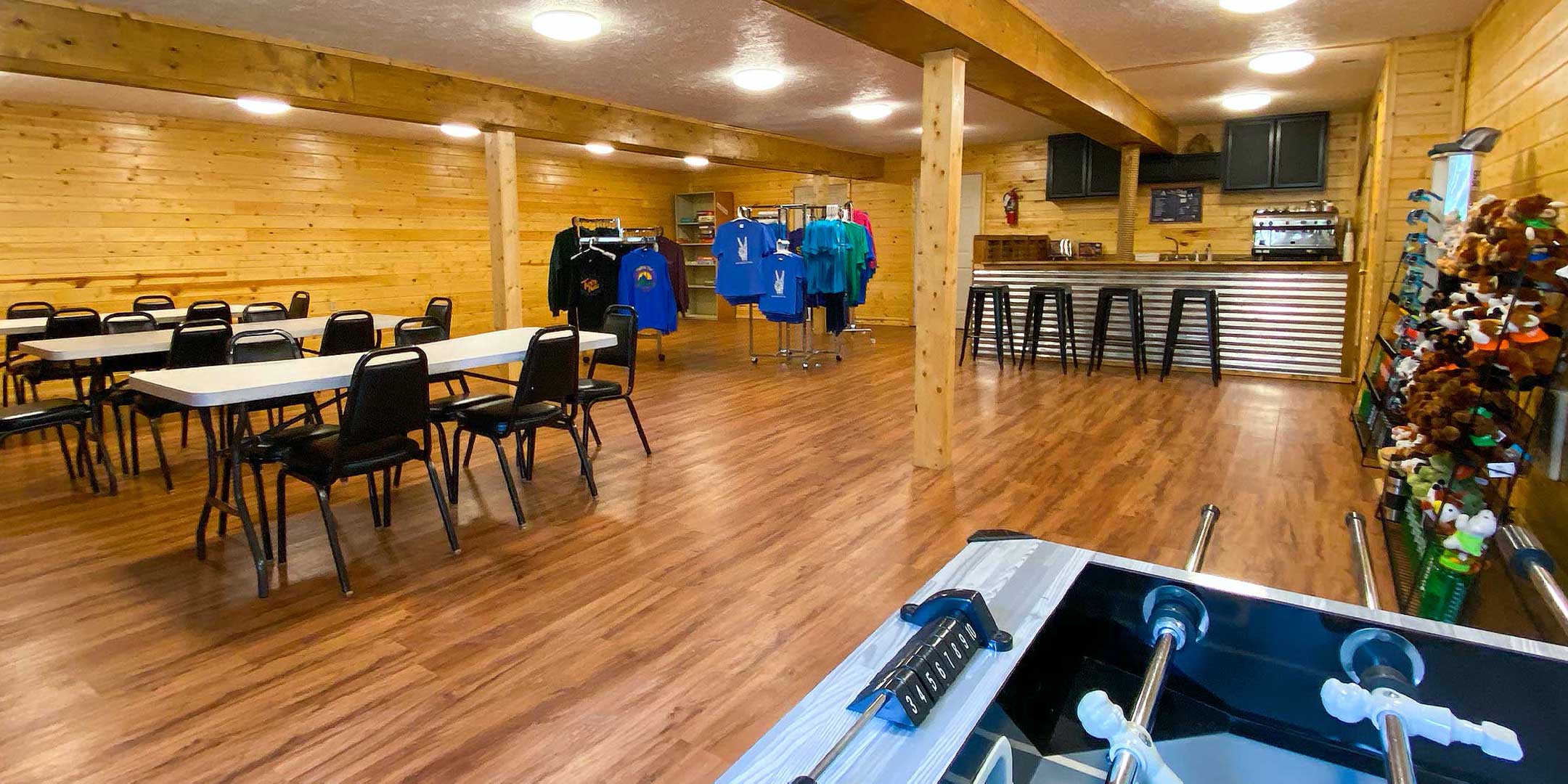 Retreat Center
Located in the lower half of our Dining Hall, the Retreat Center has two luxury bunkrooms, appropriately named the Red Room and the Green Room. The Red Room sleeps 14 in twin bunk beds, and the Green Room sleeps 12. Just down the hall from the bunkrooms are separate restrooms for ladies and gentlemen. A large meeting space we call the Fireside Room is perfect for get-togethers.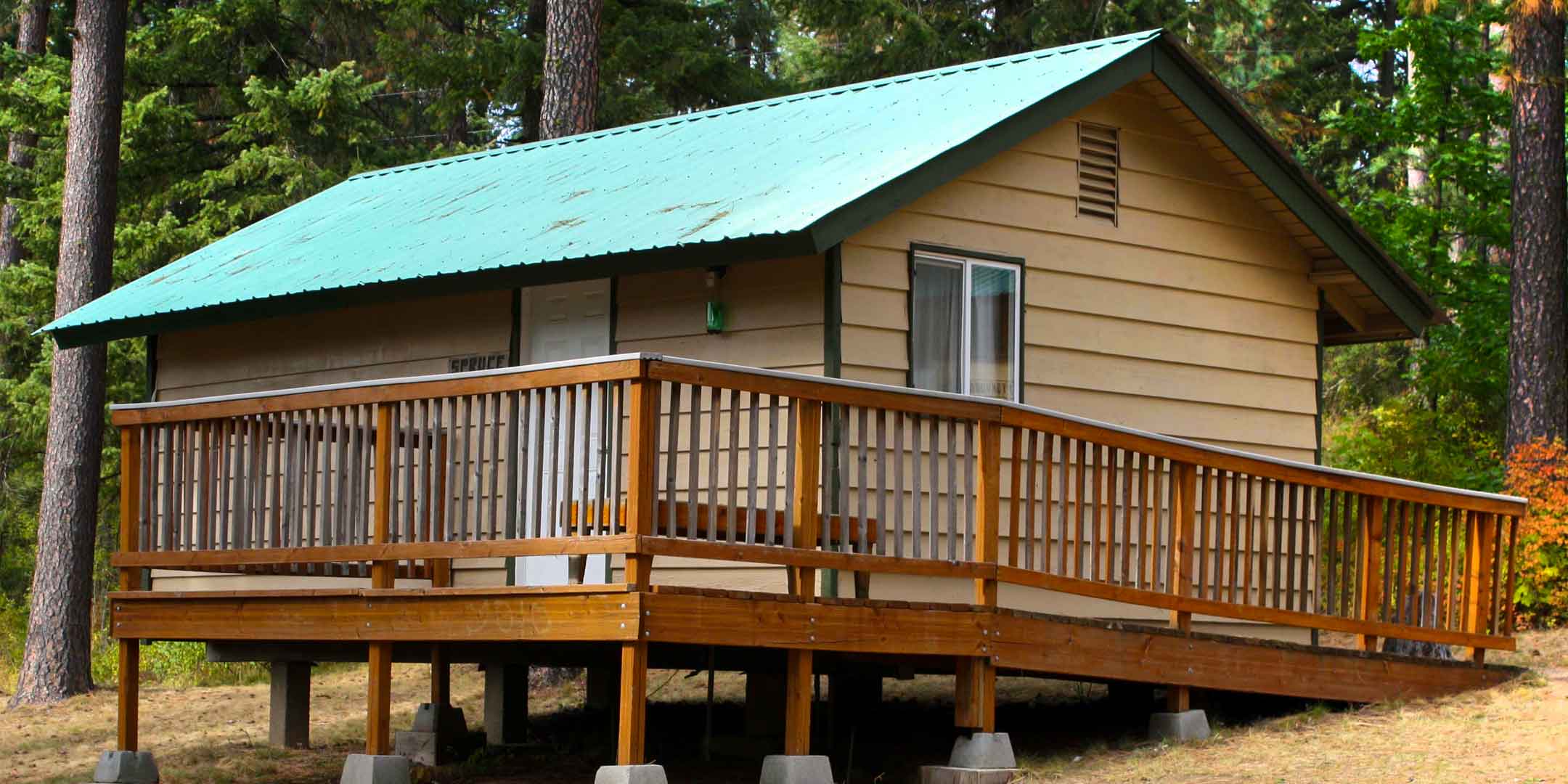 Peaceful Cabins
If you are looking for a more classic camp experience for your retreat, then our Peaceful Cabins are perfect for you. We have seven cabins that can sleep eleven people in twin bunk beds, and two cabins that sleep 22 in twin bunk beds. Separate ladies and gentlemen restrooms are in separate buildings that are just a short walk away. Cabins are available May through September for your group's use.
Twinlow Camp and Retreat Center: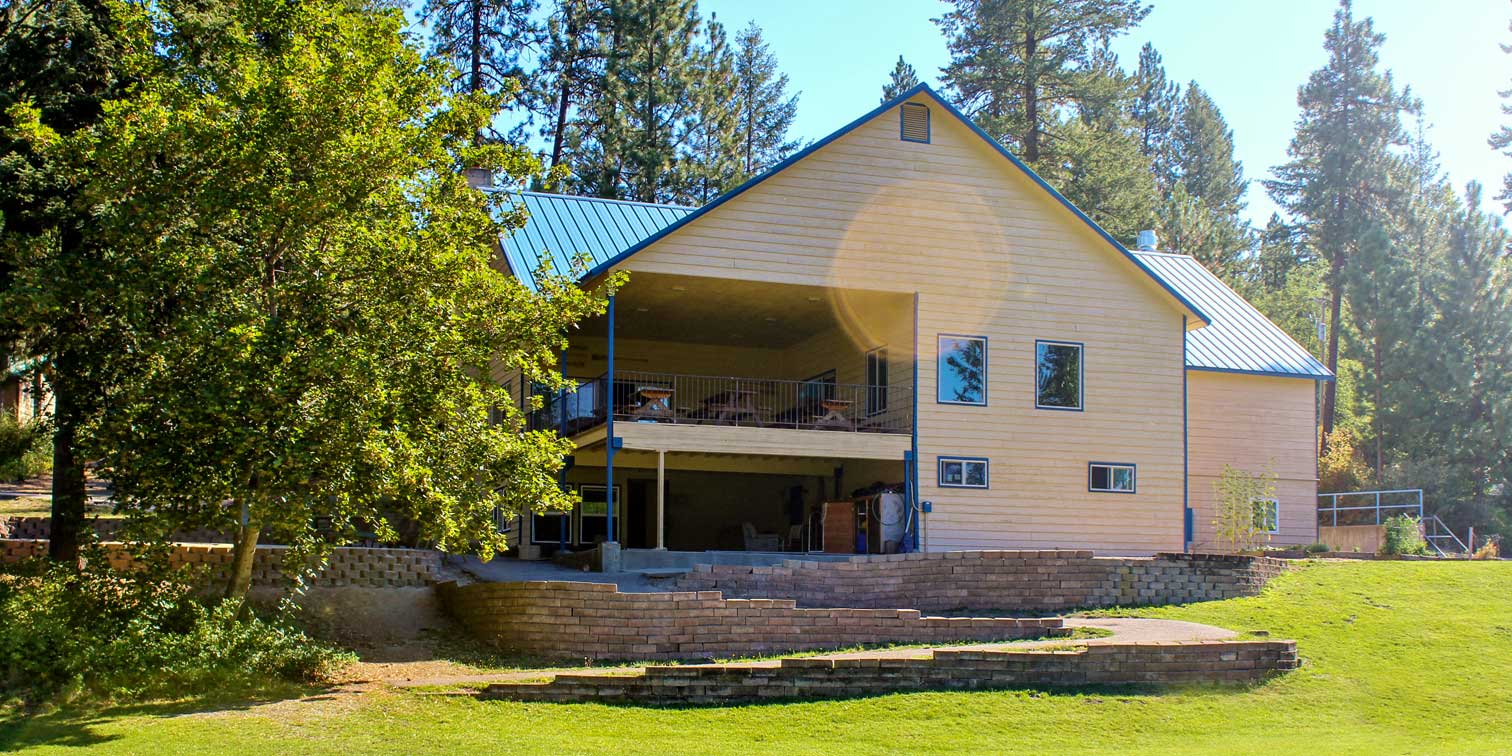 Dining Hall
Centrally located for your convenience, the Dining Hall is a multi-functional building where we serve meals, where your group can stay and meet, and where the Camp Store, "The Oar," is located. With two levels, the top floor is where you will find the camp kitchen and dining room. The lower level houses the Fireside Room, The Oar, and the Retreat Center bunkrooms. The entire building is Wi-Fi enabled, and the dining room has a sound system, projector, and screen. The Fireside Room is great for medium-size group gatherings and has a portable projector and screen.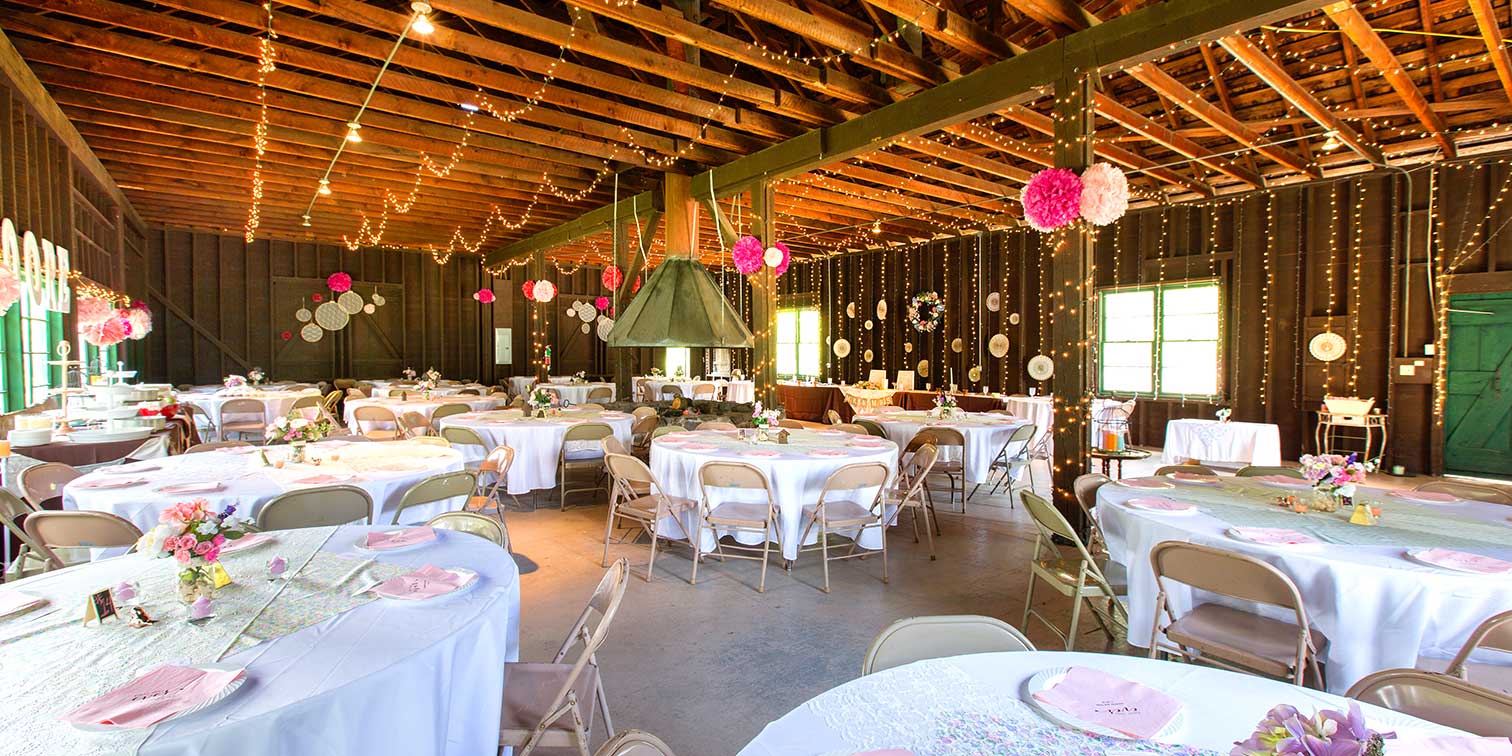 Historic Old Lodge
Step back in time in our Historic Old Lodge, the perfect place for your wedding, reception, or large group worship. With space for 150 guests to sit comfortably, the Old Lodge has become a favorite for weddings and receptions at Twinlow. Strands of dazzling twinkle lights sparkle all around the Old Lodge creating an unforgettable ambiance. Gather around the beautiful rock fireplace in the center of the room to enjoy an indoor campfire. The Old Lodge is open for use May – October.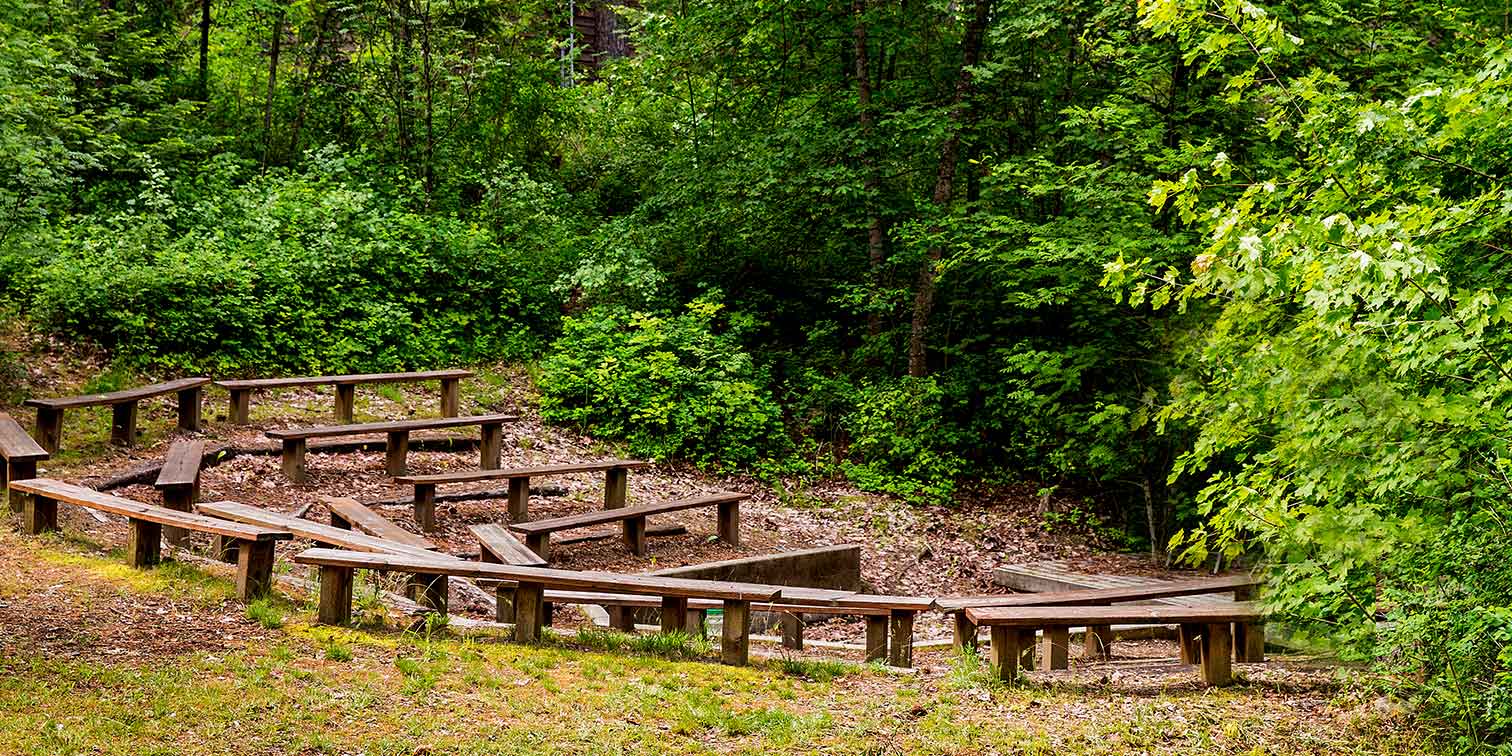 Campfires
A favorite camp classic is gathering around a crackling campfire and roasting s'mores. We have four campfire locations at Twinlow, and we are sure one will be the perfect place to recap your day. Our main campfire is located on the north side of camp. Nestled in the forest, it is a secluded location with seating for 60 and a stage for musicians and skits. Next to the Dining Hall, we have a stone fireplace perfect for viewing the lake at dusk and warming yourselves from the heat of the fire and the company of friends. By the lake we have a fire pit, perfect for small groups to share and enjoy. Finally, next to Selkirk Lodge, we have a campfire pit for groups up to 40 to gather round and roast s'mores, sing, or tell stories.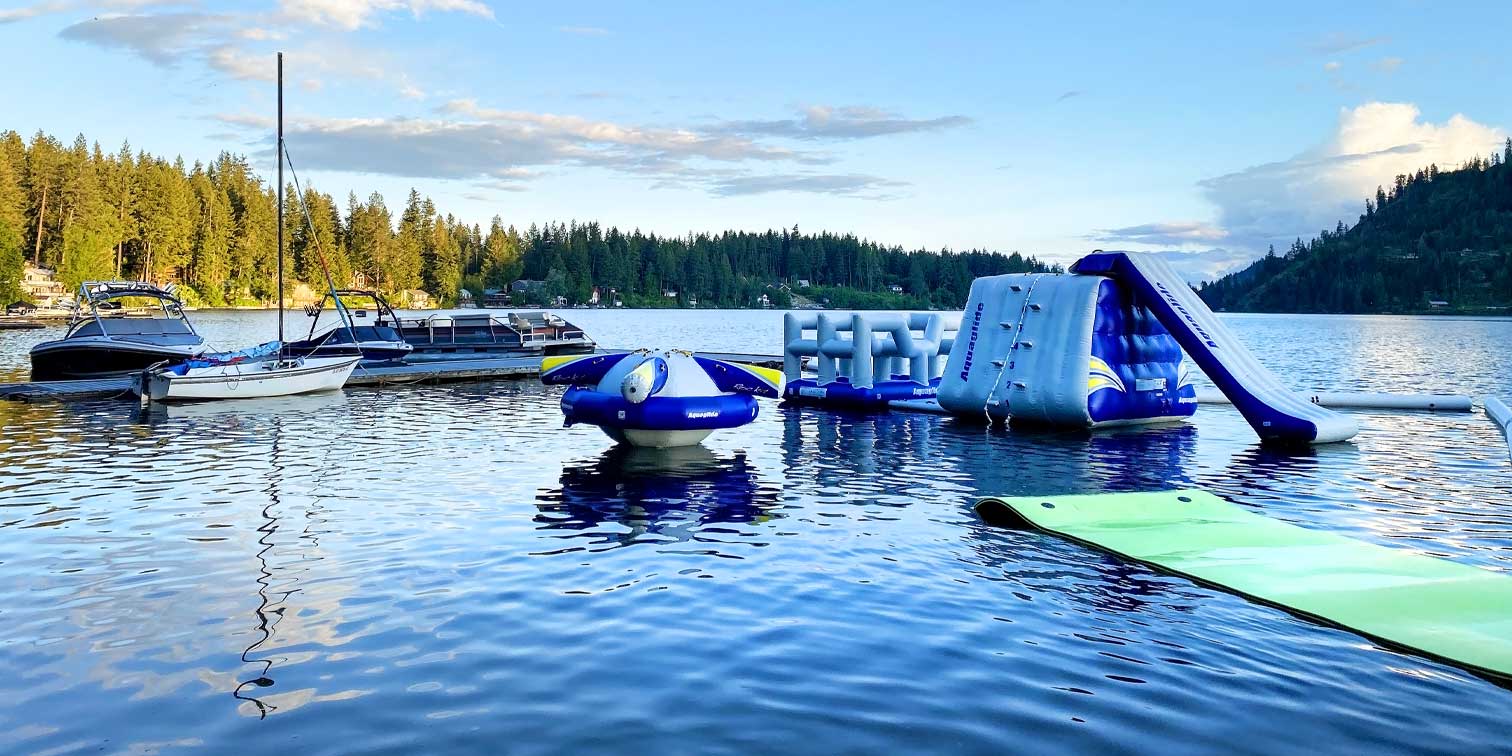 Extensive Waterfront Facilities
Guests are welcome to enjoy our waterfront when a Twinlow lifeguard is on duty. Our waterfront activities include swimming, human-powered boats, log rolling, and playing on our inflatable toys. Pinecrest Lake House guests have access to a private dock and waterfront. Twinlow guests are always welcome to visit our waterfront and take in the view, do yoga, or find a place for prayer and contemplation.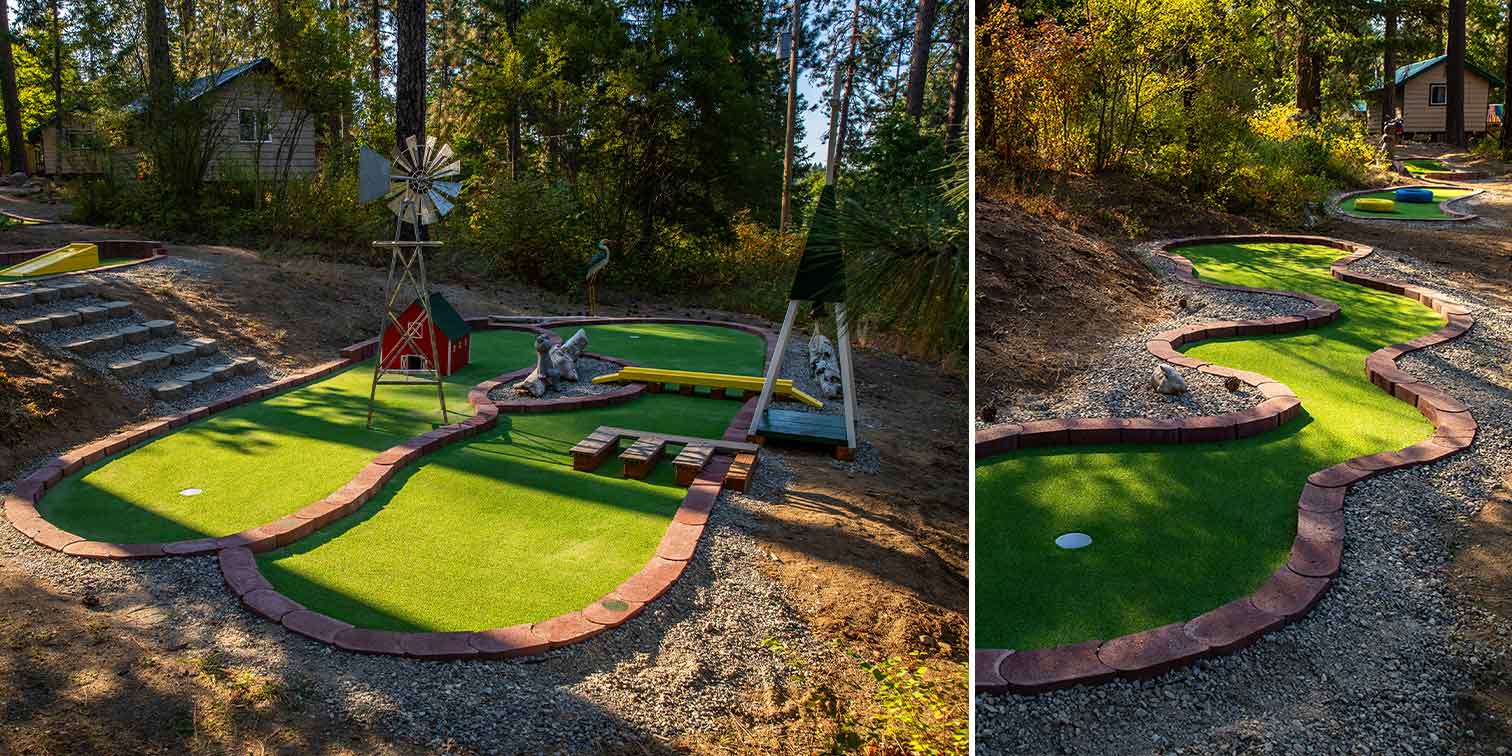 9-Hole Mini Golf Course
Nestled amidst the lush trees and cabins of Twinlow Camp and Retreat Center, a delightful surprise awaits visitors of all ages – a brand-new 9-hole mini golf course. Designed to provide endless fun and entertainment, this mini golf course is an exciting addition to Twinlow's offerings. Whether you're a camper, a retreat guest, or attending a wedding at Twinlow, this enchanting course is a must-visit. Every hole features a distinct theme that resonates with Twinlow Camp and the charm of northern Idaho. The attention to detail on this course is truly remarkable. Carved bear cubs and a regal bald eagle accompany players as they make their way through the holes, creating a sense of interaction with the local wildlife.
Just a few of our Activites: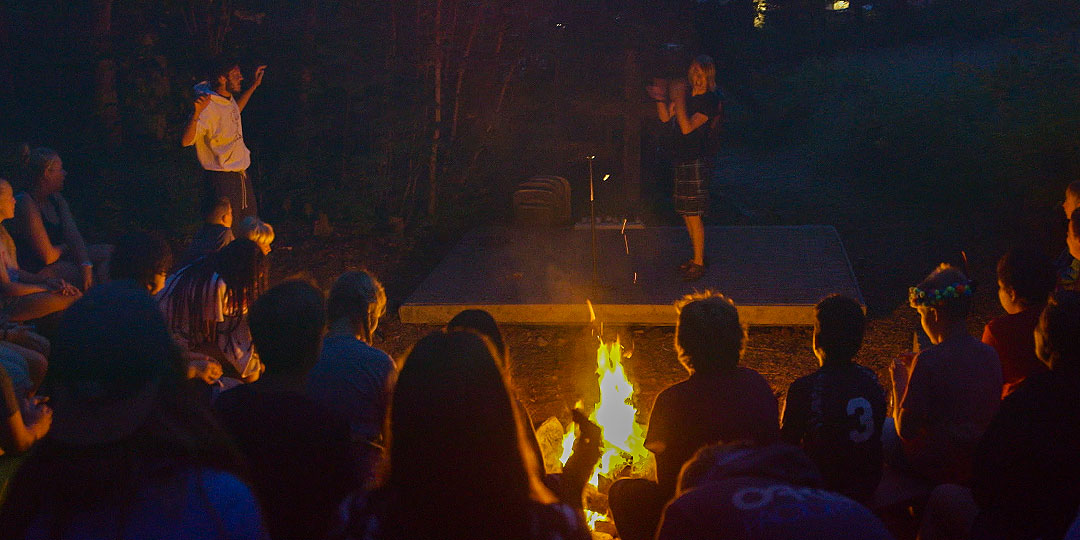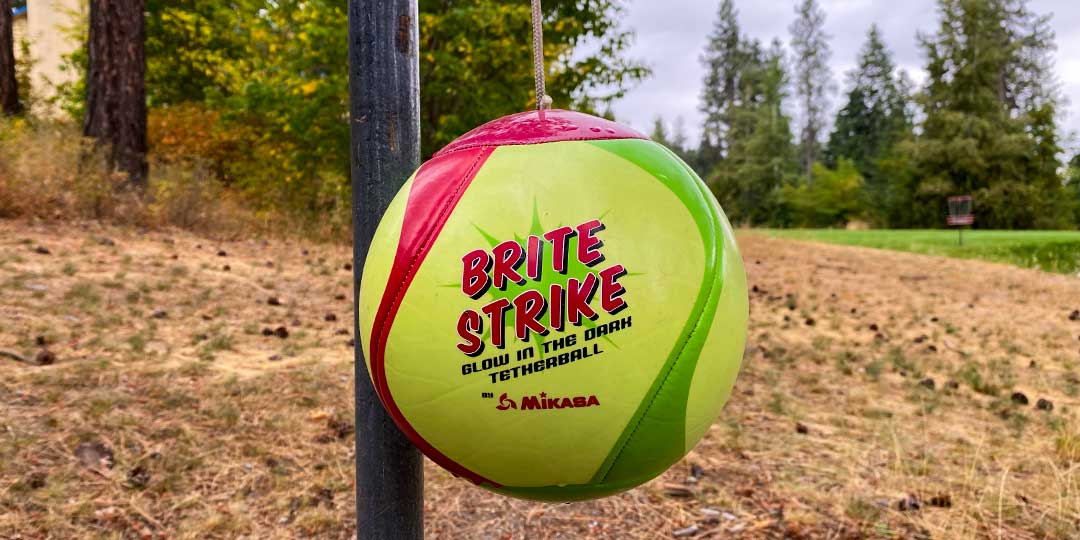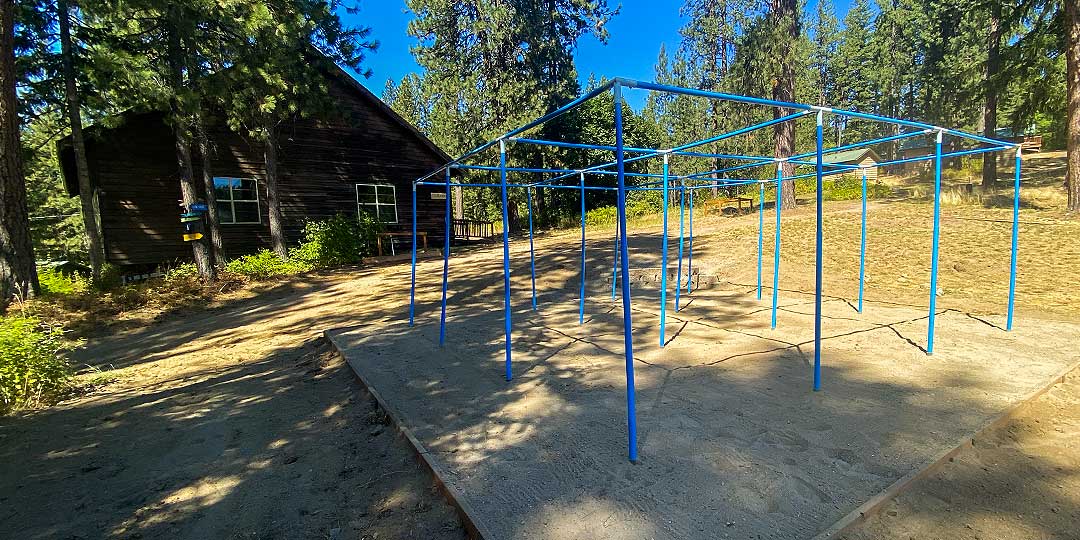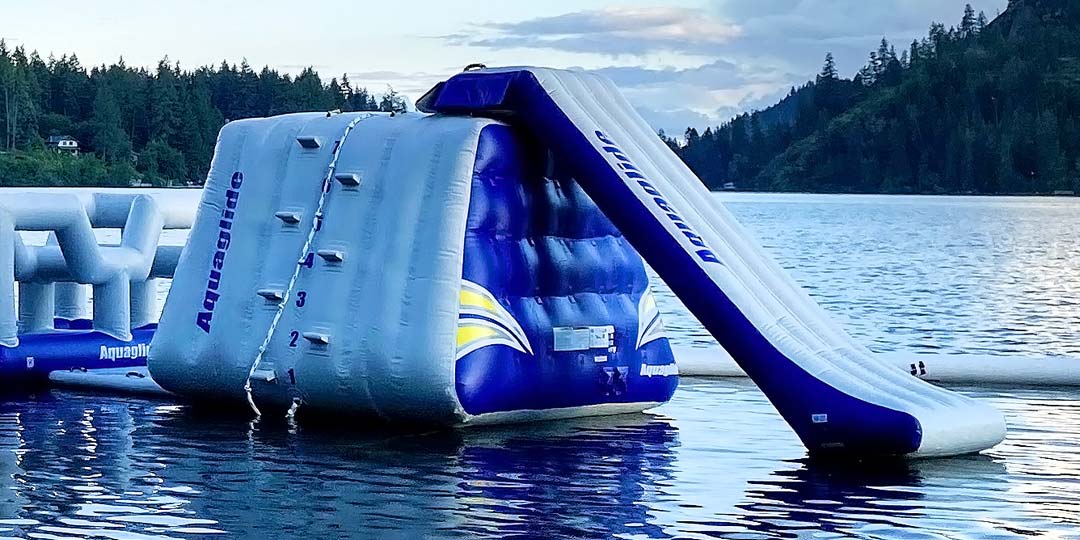 Floating Slide
*Twinlow Staff Supervision and fee Required.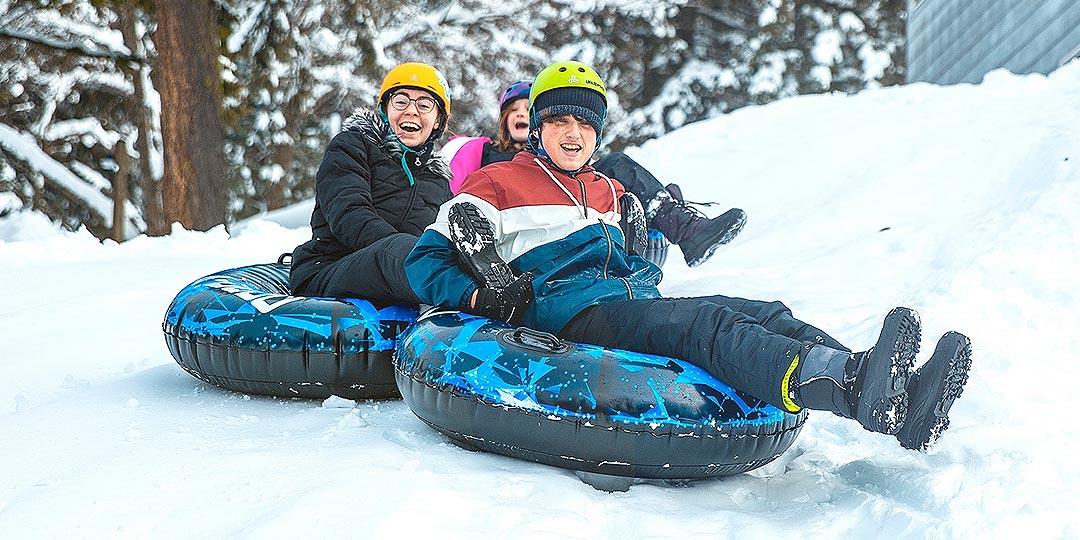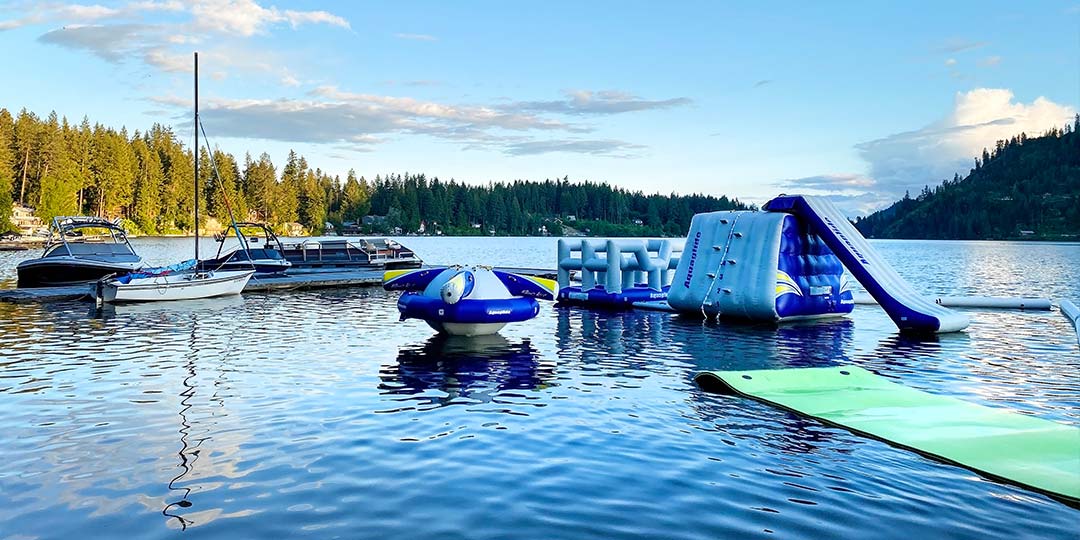 Twinlow Aquapark!
*Twinlow Staff Supervision and fee Required.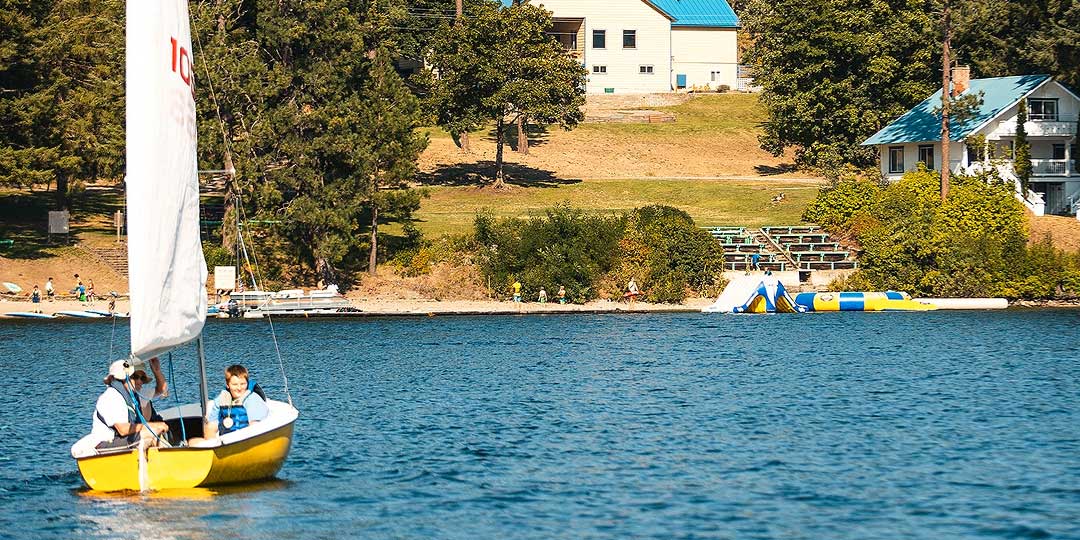 Multiple Sailboats
*Available only for Twinlow Run Summer Camps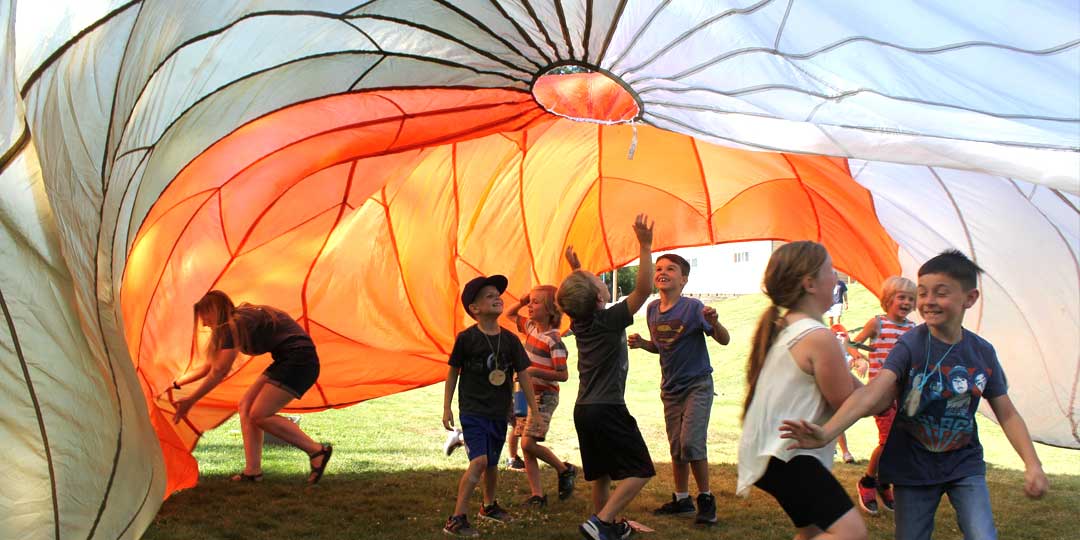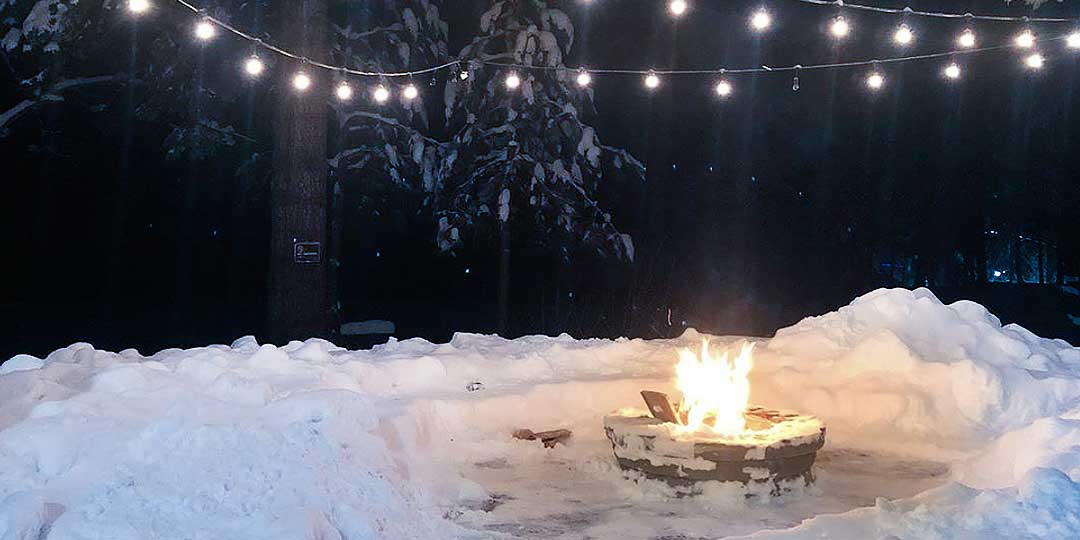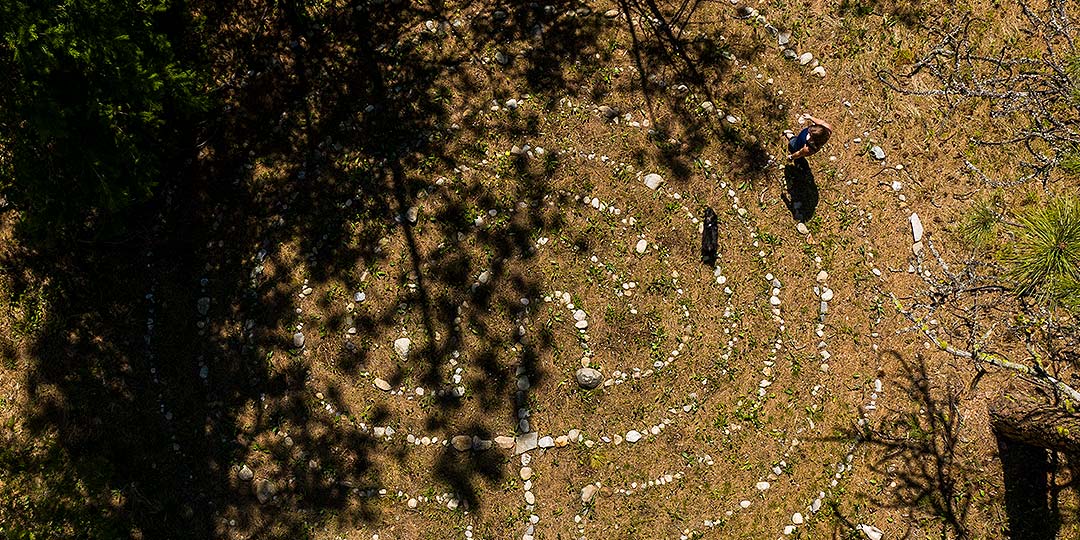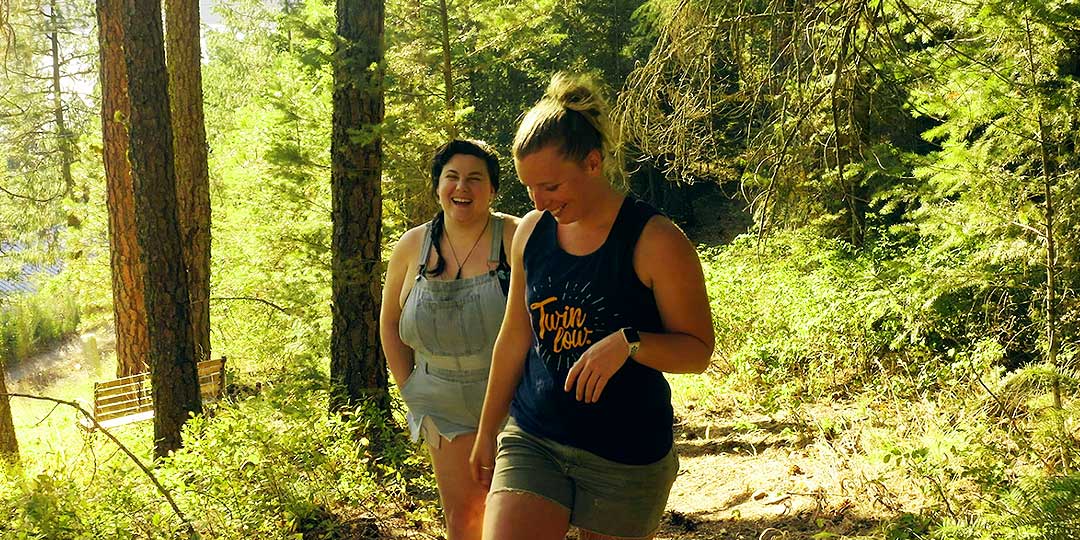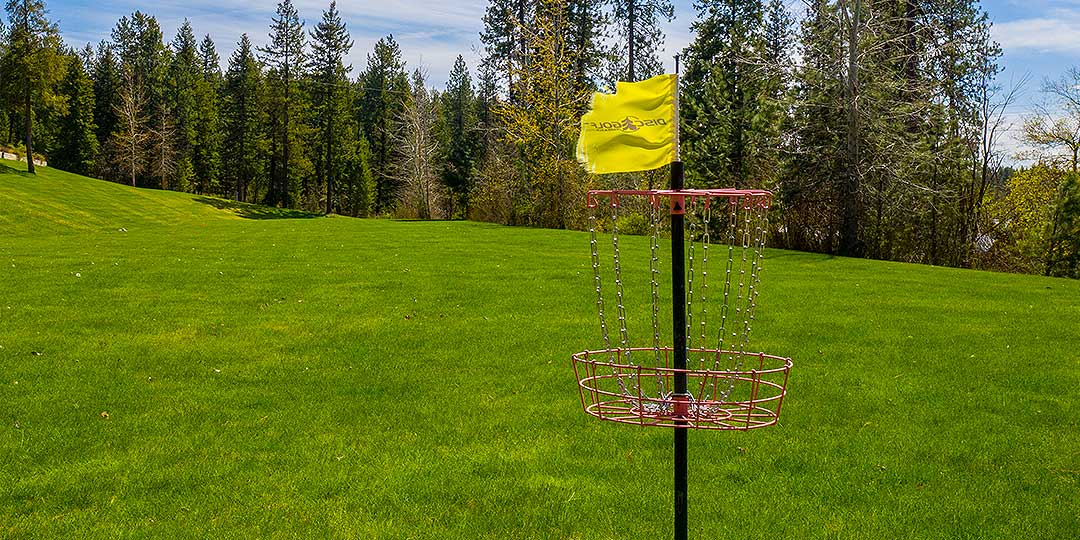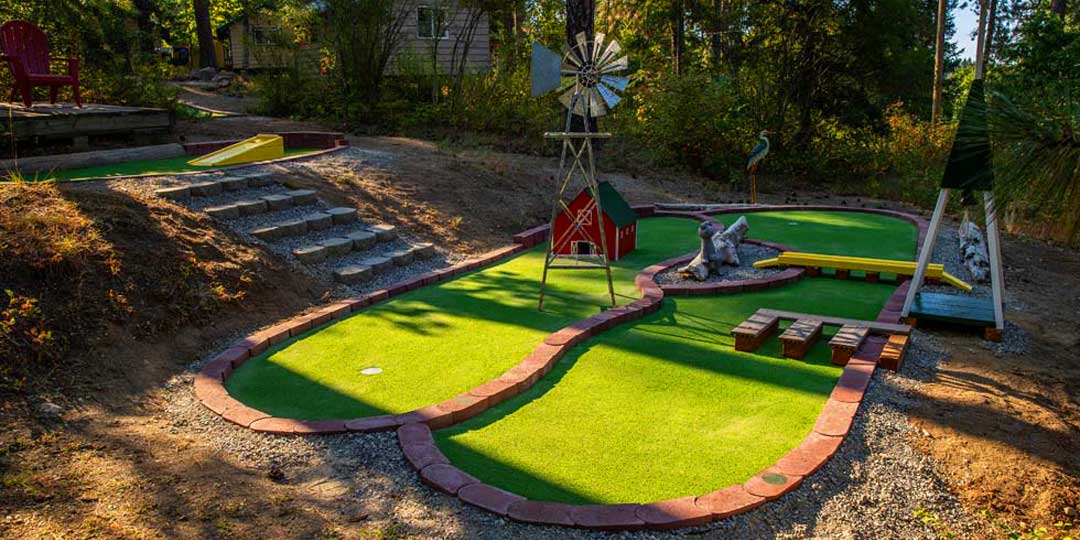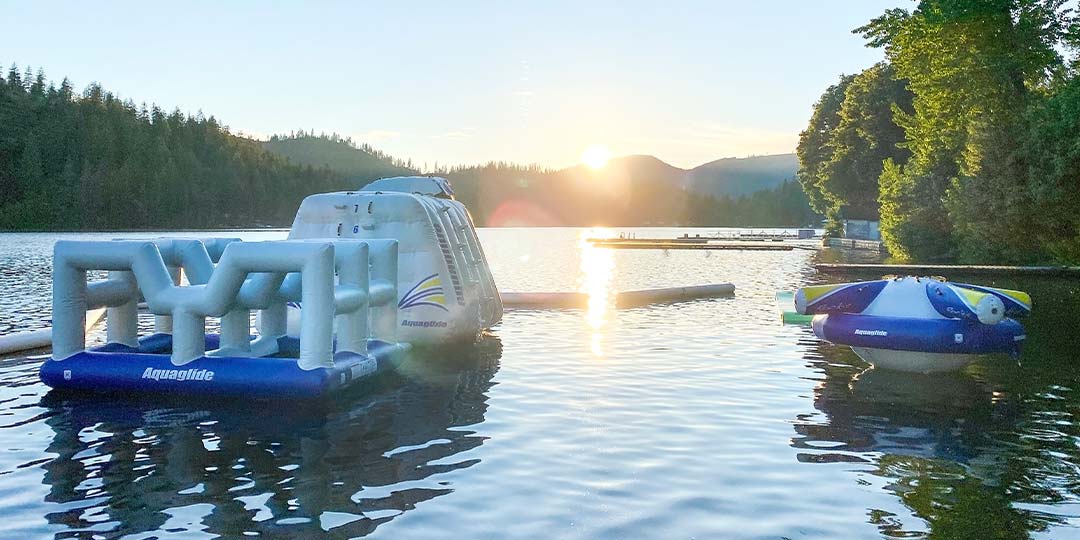 Water Toys
*Twinlow Staff Supervision and fee Required.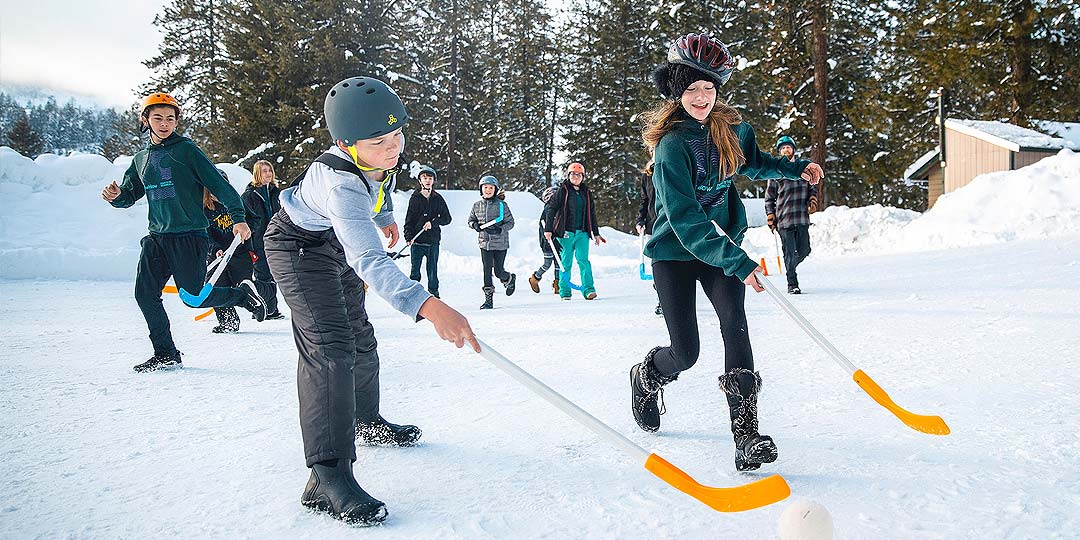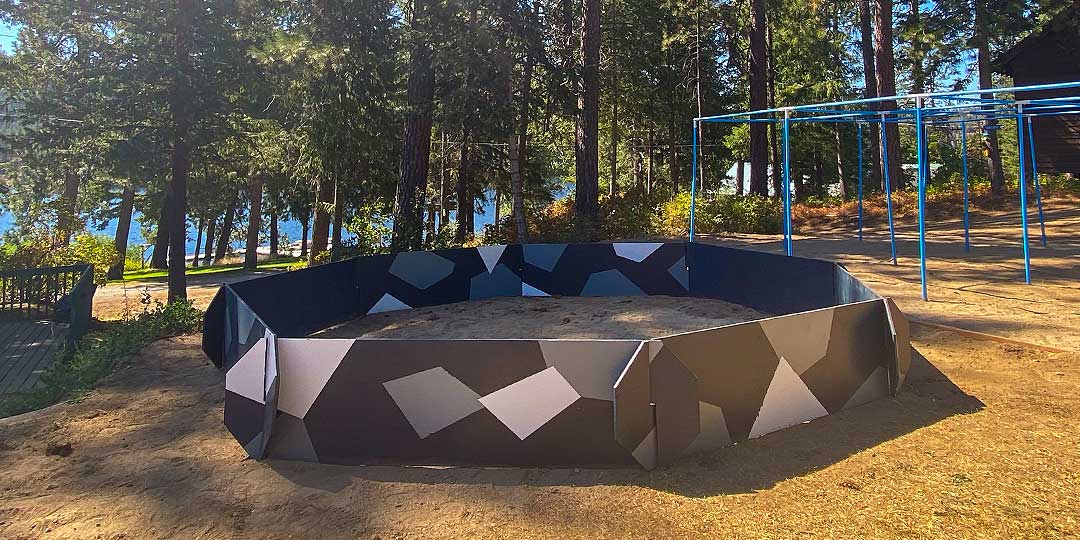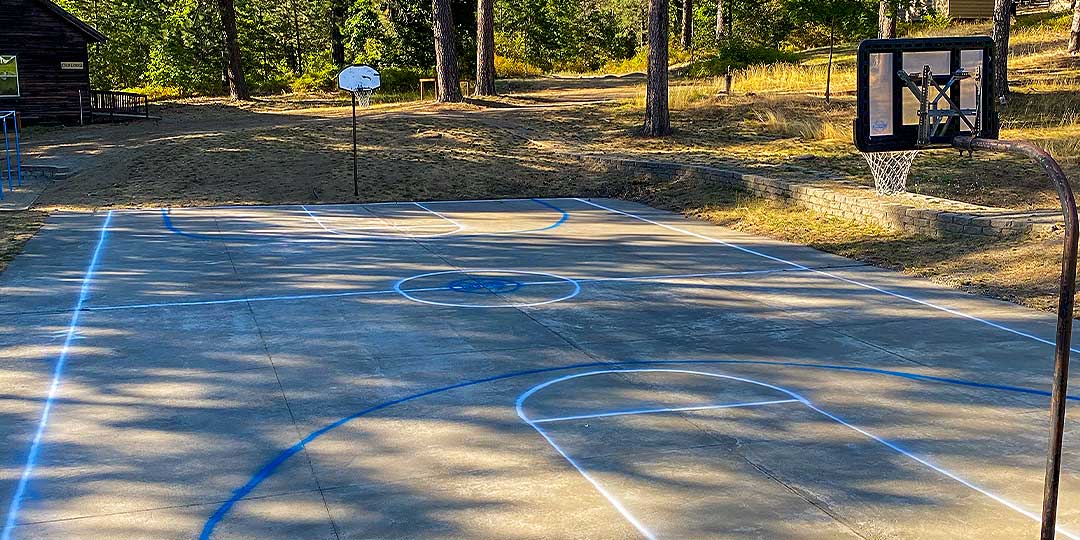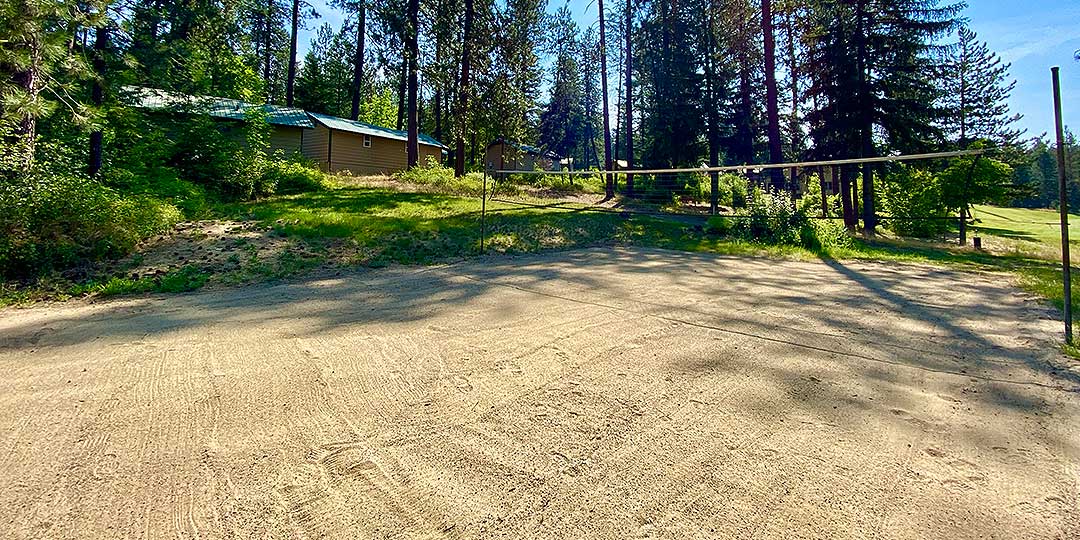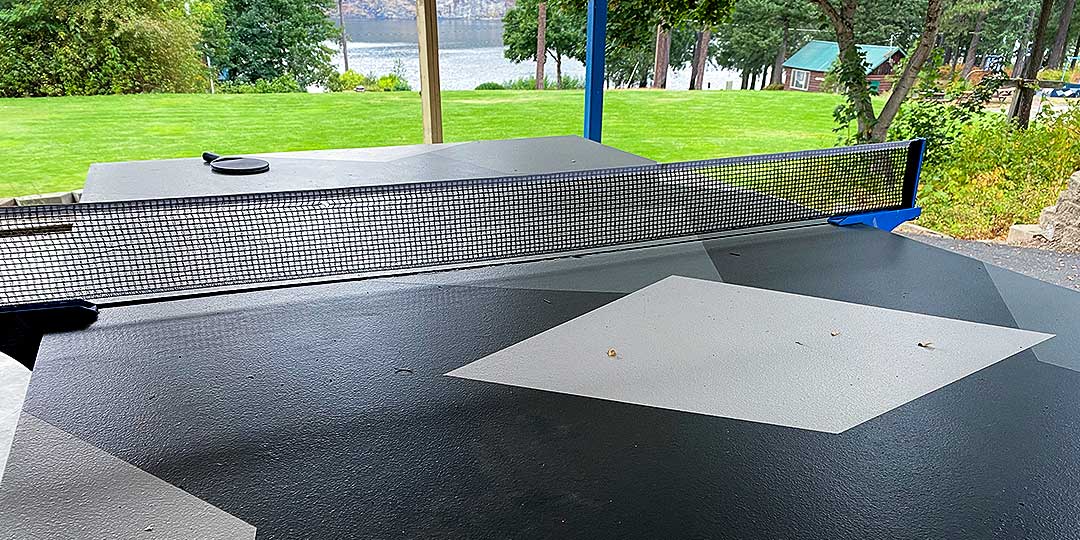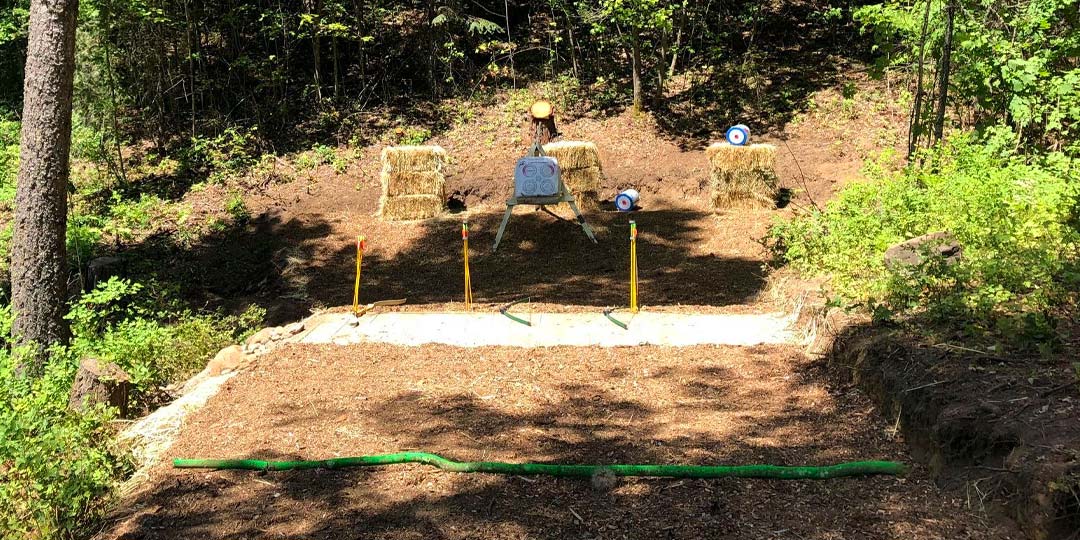 Archery Range
*Twinlow Staff Supervision and fee Required.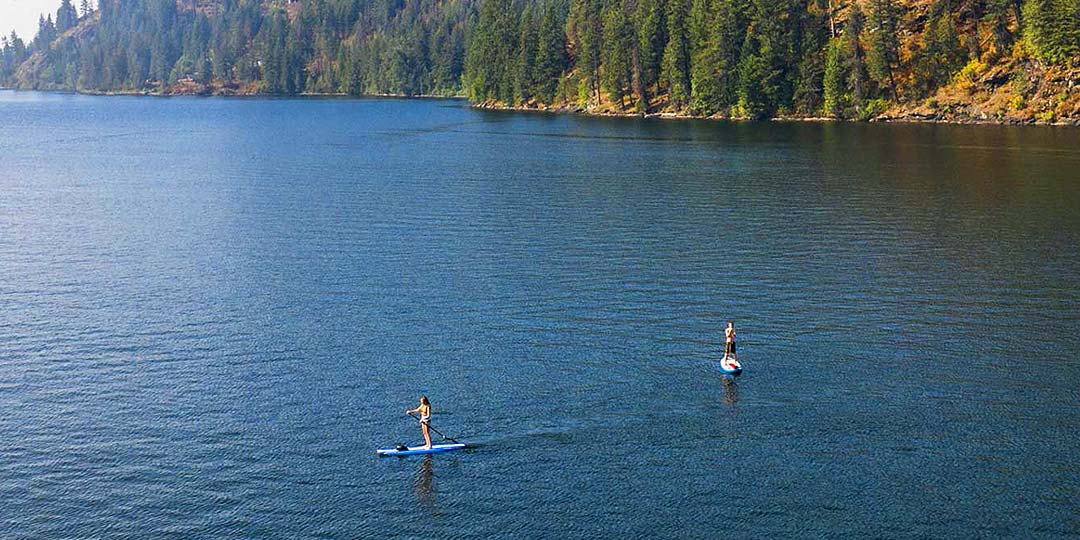 Paddle Boards & Kayaks
*Twinlow Staff Supervision and fee Required.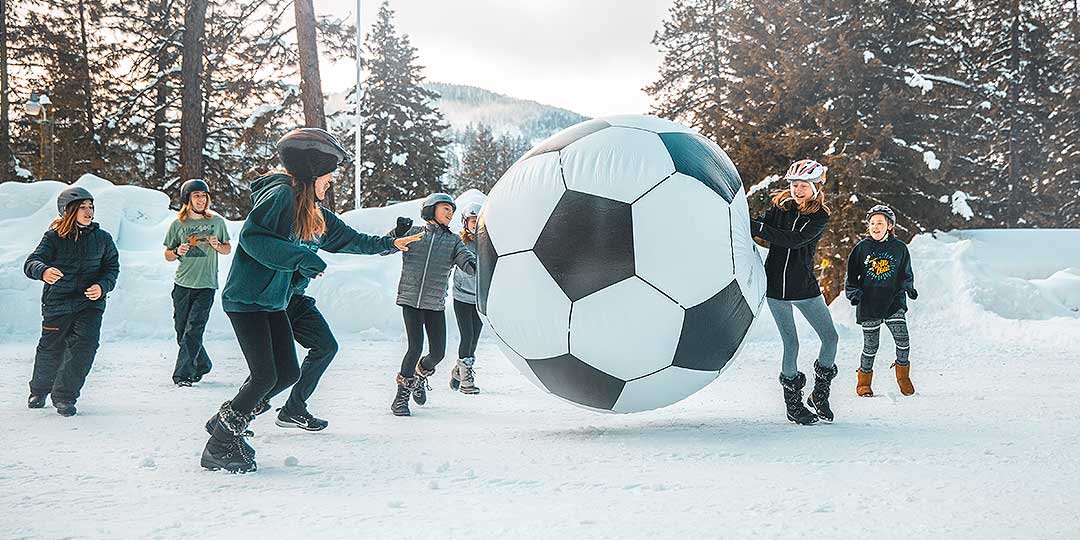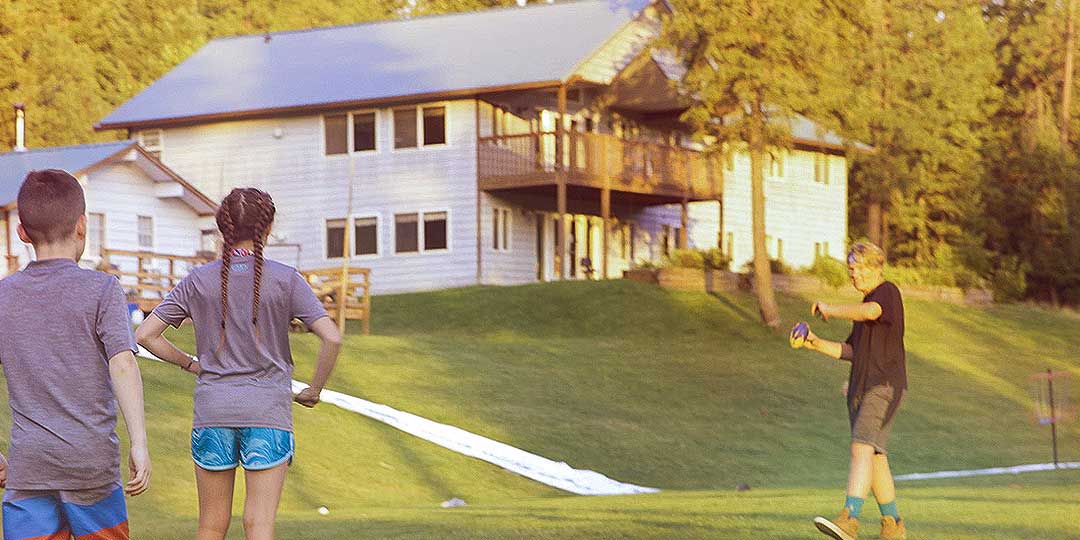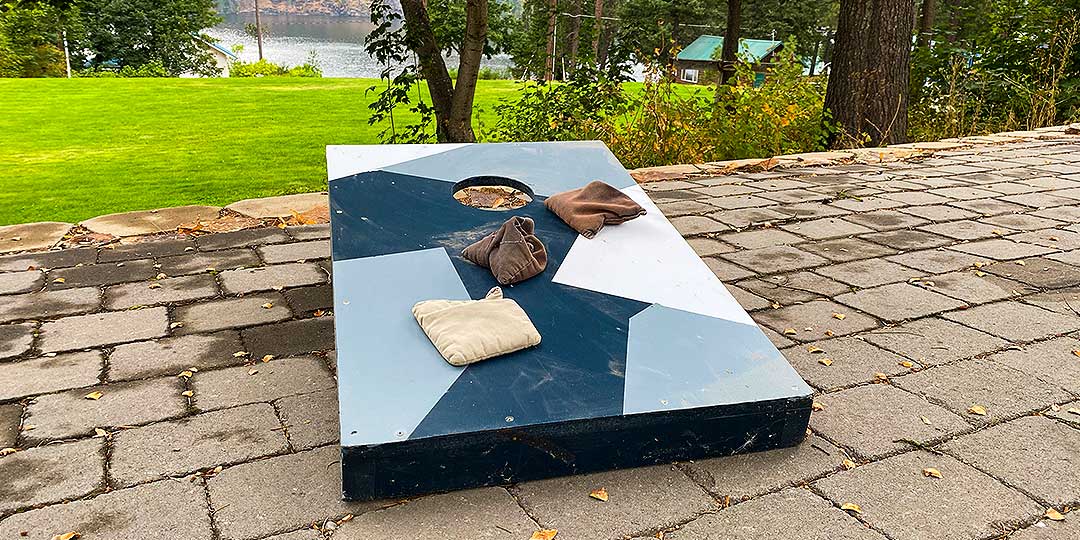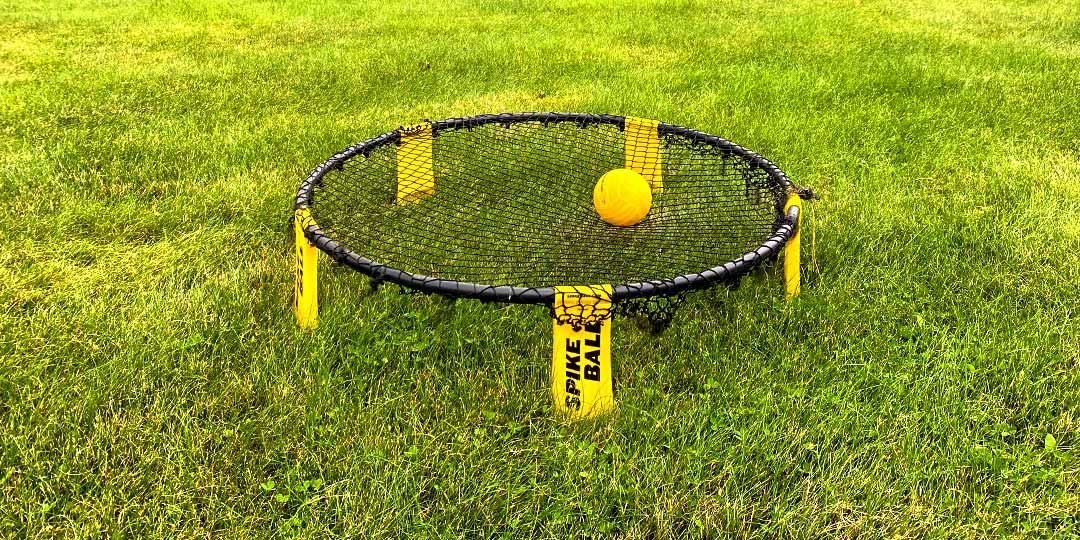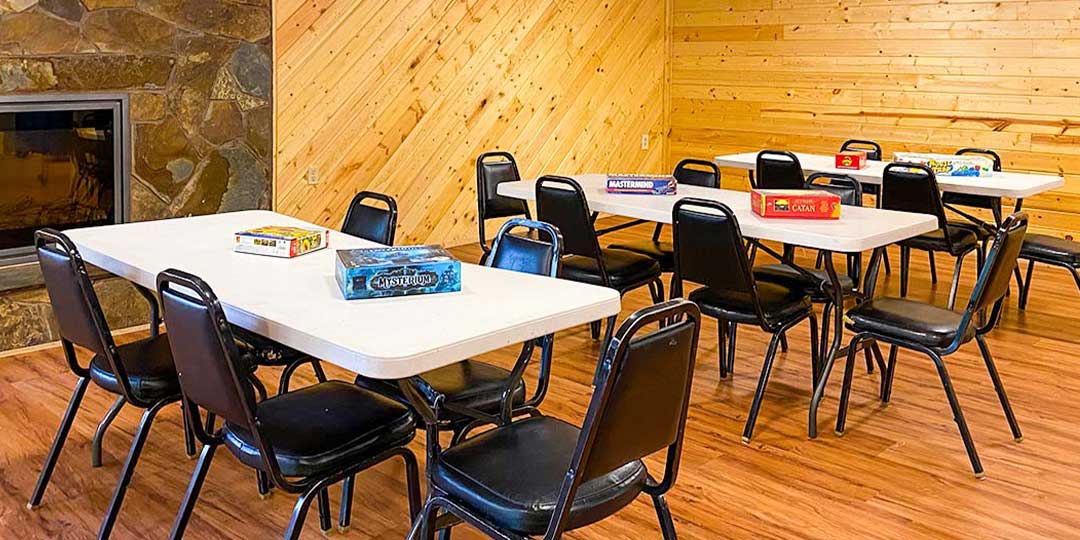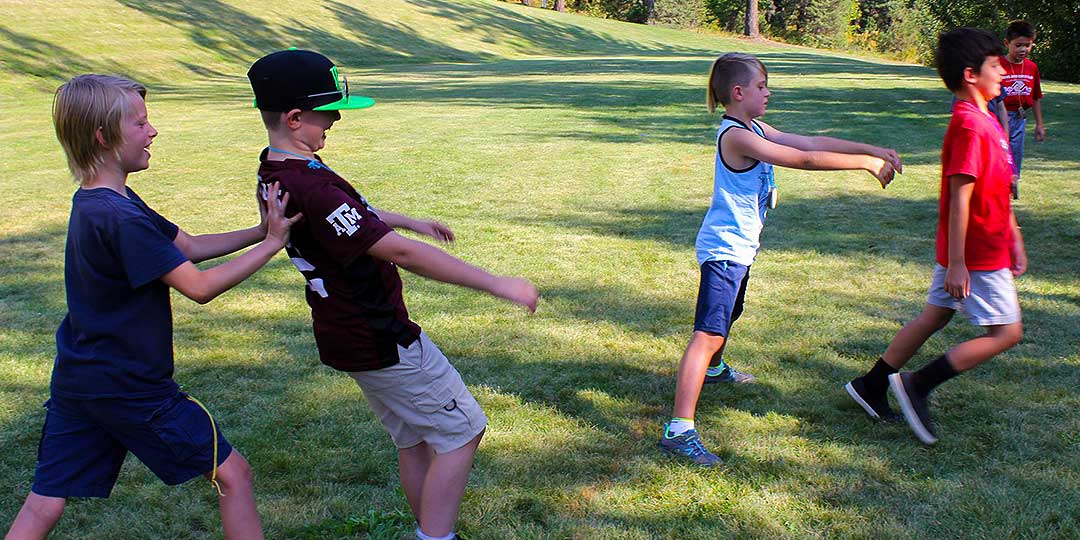 Team Building
*Twinlow Staff Supervision and fee Required.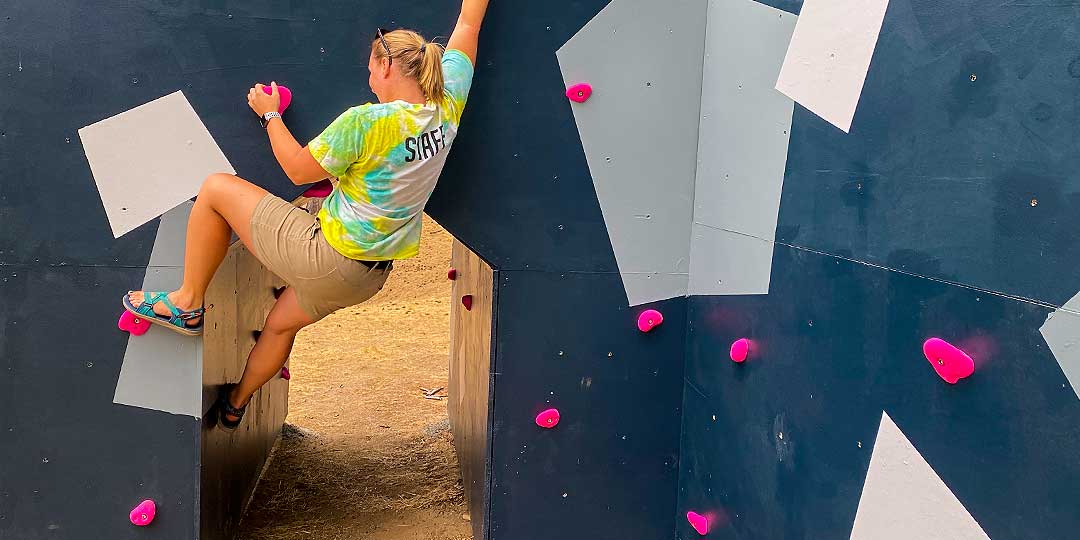 Bouldering Wall & Cave
*Twinlow Staff Supervision and fee Required.
Surf & Wakeboard Boats
*Available only for Twinlow Run Summer Camps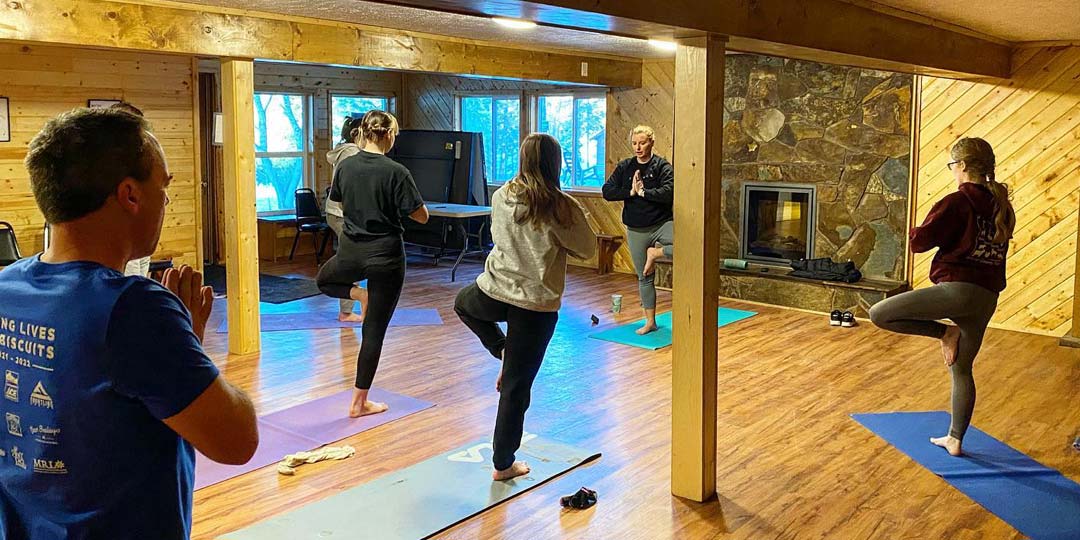 Yoga
*Twinlow Staff can facilitate for you.
Find rest on Holy Grounds on the shores of Lower Twin Lakes. We can help you with booking, planning, catering and more! What are you waiting for? The wilderness is calling.