Nestled amidst the lush trees and cabins of Twinlow Camp and Retreat Center, a delightful surprise awaits visitors of all ages – a brand-new 9-hole mini golf course. Designed to provide endless fun and entertainment, this mini golf course is an exciting addition to Twinlow's offerings. Whether you're a camper, a retreat guest, or attending a wedding at Twinlow, this enchanting course is a must-visit.
Elevate your Twinlow Camp experience with our brand-new 9-hole mini golf course, a hidden gem amidst the trees and cabins of North Idaho. Immerse yourself in themed gameplay inspired by local landmarks, providing shaded delight for campers, retreat guests, and even wedding celebrations.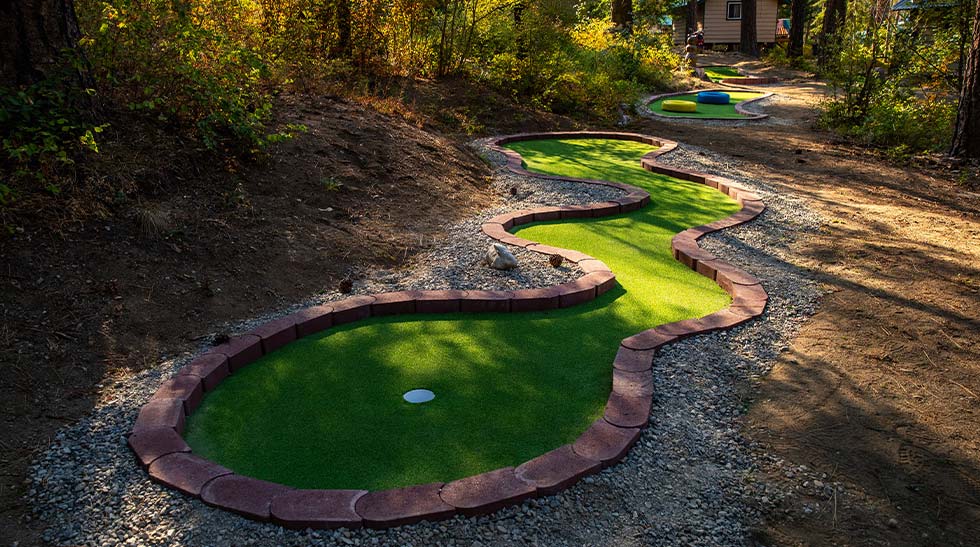 Picture a tranquil oasis within the trees, offering a shaded escape from the blazing sun. The mini golf course is not just a recreational area but a serene setting that invites you to immerse yourself in the beauty of nature while having a great time. With each hole strategically placed to make the most of the surrounding greenery, players can experience the thrill of the game while also appreciating the idyllic environment.
Themed Family Friendly Holes: A Journey through North Idaho's Charms
What sets Twinlow's mini golf course apart is the meticulous attention to detail on each hole, ensuring a unique and immersive experience for everyone. Every hole features a distinct theme that resonates with Twinlow Camp and the charm of northern Idaho.
The fourth hole pays homage to the Twin Lakes that Twinlow boarders. Players can navigate around obstacles that mimic the Twinlow boat dock and even a replica of the iconic bridge separating the two lakes. This hole not only offers a fun challenge but also a visual reminder of the camp's stunning surroundings.
On the Rathdrum Prairie-themed hole, a miniature barn and windmill set the scene. As players aim for that elusive hole-in-one, they can appreciate the rustic beauty of rural Idaho, all while enjoying the game.

A particularly unique feature awaits players in the middle of the course – a replica of the Twinlow cross. As players attempt to navigate this creative challenge, they can also ring the bell, adding an extra layer of enjoyment to their mini golf experience.

The attention to detail on this course is truly remarkable. Carved bear cubs and a regal bald eagle accompany players as they make their way through the holes, creating a sense of interaction with the local wildlife.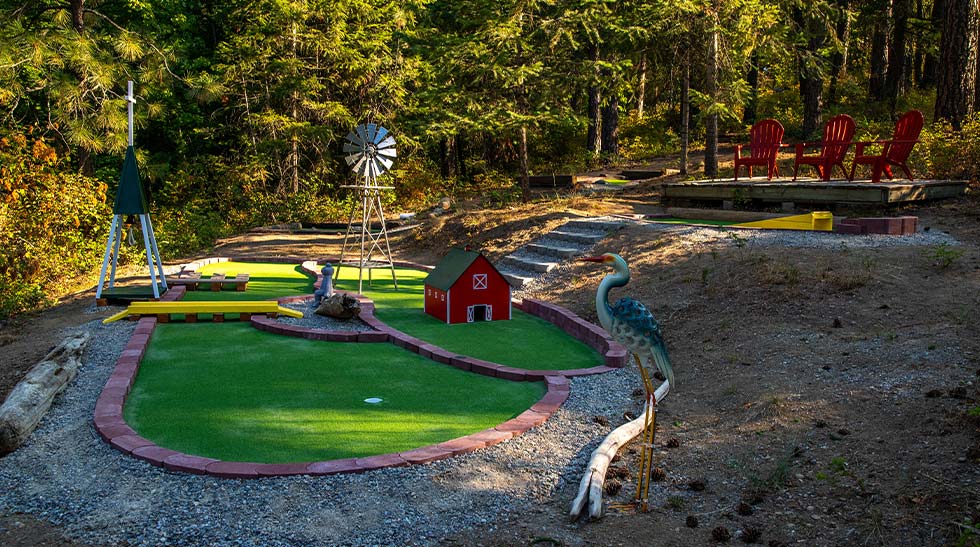 Experience outdoor fun and natural beauty at Twinlow Camp's new 9-hole mini golf course in North Idaho, nestled among trees and cabins. Explore family friendly themed holes inspired by local landmarks while enjoying one of the best mini golf courses in north Idaho with shaded gameplay for campers, retreat guests, and wedding attendees.
The mini golf course is open to everyone who visits Twinlow Camp and Retreat Center. Whether you're a camper looking to add some excitement to your stay, a retreat guest seeking a recreational activity, or a wedding guest wanting to create cherished memories, this course promises entertainment for all.
Twinlow Camp's newly opened 9-hole mini golf course is more than just a recreational area; it's an embodiment of the camp's commitment to providing a diverse range of experiences that connect visitors with the natural beauty of north Idaho. As players traverse through the themed holes, they not only engage in a fun-filled game but also embark on a journey through the region's cultural and natural gems. So, the next time you find yourself at Twinlow, don't forget to grab a putter and experience the magic of this enchanting mini golf course amidst the trees.